Massive, Gravity-Based Battery Towers Could Solve Renewable Energy's Storage Problem
Eric Olson | December 18, 2018
Renewable energy is billed as a clean source of power that will free civilization from the dirty, CO2-generating fossil fuels that drive climate change. But it has a problem.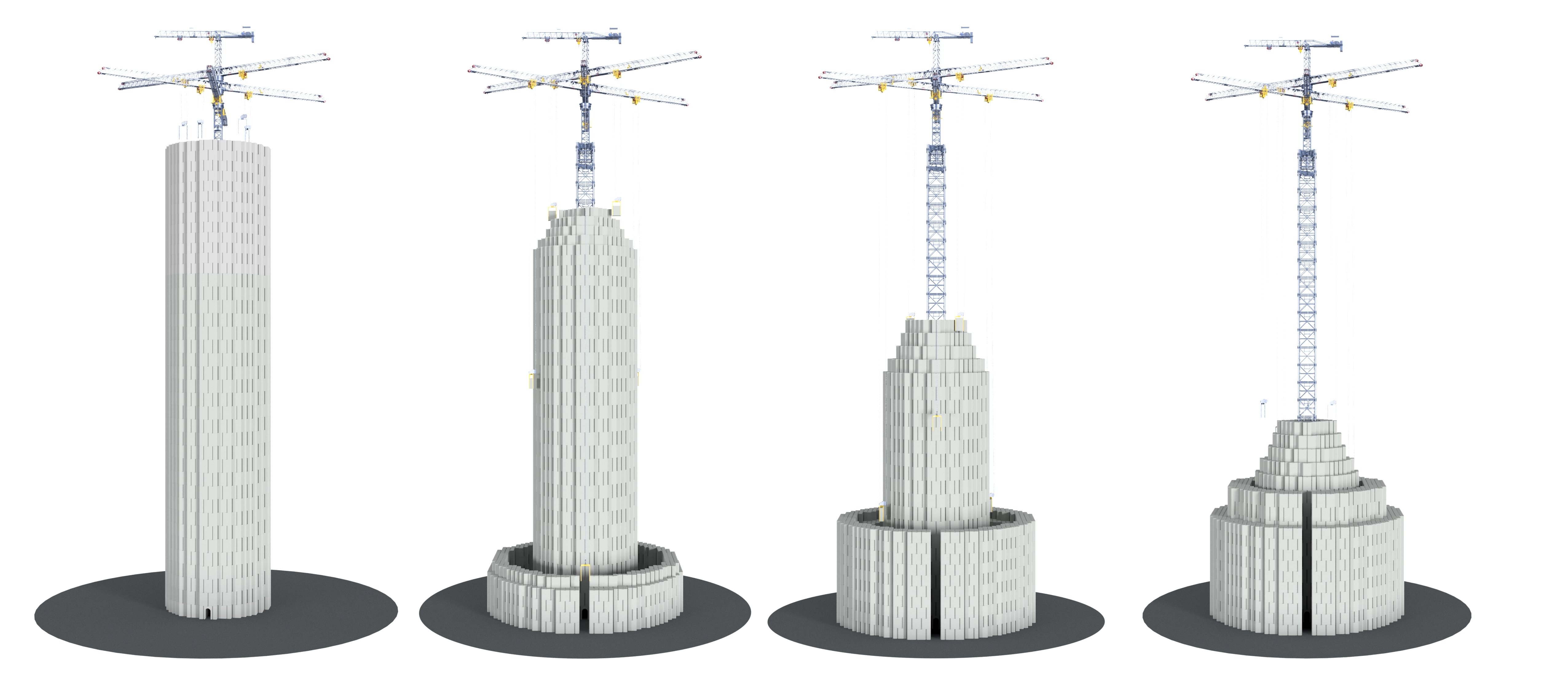 From left to right, Energy Vault's tower fully "charged," at partial levels of charge, and with its capacity fully expended. Source: Energy Vault
Renewables harness the power of the sun by extracting energy from the endless stream of solar rays that pound Earth's surface and the winds that course over it. Yet, the sun is often shrouded by clouds (or completely out of sight, at night) and winds ebb and flow. If the transition to renewables continues — replacing the regular, fixed power output of coal, gas and nuclear plants with more intermittent and unpredictable sources of clean energy — how will energy providers ensure a steady supply of electricity?
[Discover photovoltaic (PV) and solar power systems and learn more about them on Engineering360.]
The answer may lie in towers of massive concrete blocks stacked hundreds of feet high that act like giant mechanical batteries, storing power in the form of gravitational potential energy. This new energy storage concept is being advanced by a Californian/Swiss startup company called Energy Vault as a solution to renewable energy's intermittency problem. The towers would store electricity generated by renewables when their output is high in windy, sunny conditions and release energy back to the grid when production falls as winds die down and clouds move in.
[Discover wind turbines on Engineering360.]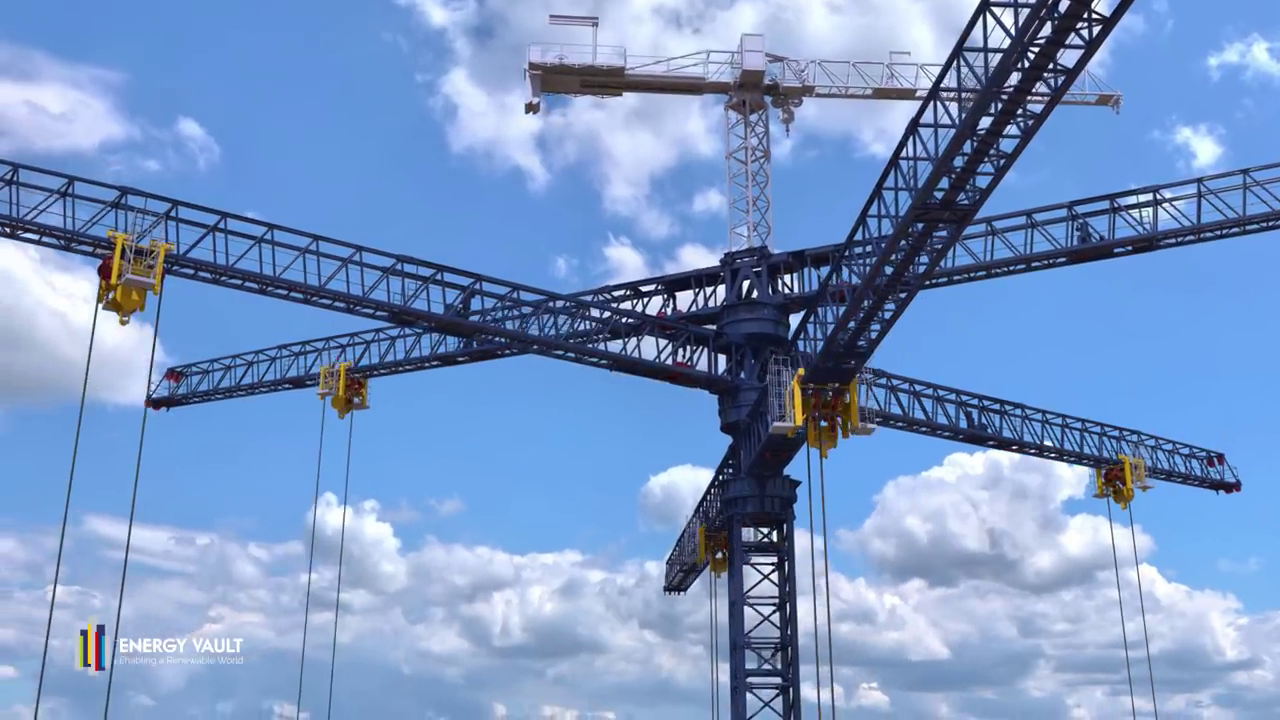 Multiple cranes at the top of the towers raise and lower the blocks. Source: Energy Vault
Gravitational Batteries
Topping each tower are cranes that raise and lower thousands of the stackable concrete blocks, each weighing 35 metric tons. Excess grid electricity powers motors in the crane to lift the blocks, picking them up from an outer ring of extras and hoisting them to the top of an inner concentric ring. To deliver electricity back to the grid, the potential energy of the raised blocks is harnessed. The cranes pick them off the summit of the inner ring and drop them back down to the outer ring, converting the kinetic energy of the falling masses into electricity with generators as the blocks fall.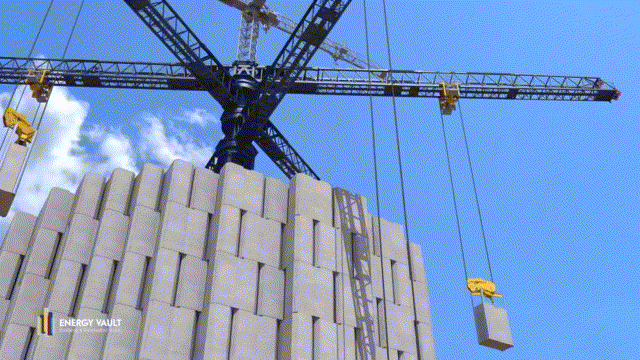 A close-up animation displaying how the tower's crane attachments will lift the blocks, descending from above and locking into place at four contact points to support them at their base. Source: Energy Vault
A standard tower has a 35 MWh capacity with a 4 MW peak power output that can be modulated based on demand. Energy Vault claims 90% round-trip efficiency, which is enabled by mechanical simplicity grounded in fundamental physics directed by an intelligent control scheme. The specific positioning and motion sequences of the crane are fully autonomous, controlled by custom software algorithms that take into account wind conditions and the inertia of the massive blocks to place them in the most efficient configuration possible.
The concept takes inspiration from pumped hydroelectric energy storage, in which water is transferred between two reservoirs at different elevations. With this approach, surplus electricity is used to pump water to the higher elevation to be later converted back into electricity by releasing it to flow through a turbine as it falls back to the lower reservoir. Compared to Energy Vault's towers, however, pumped hydro is geographically limited by its topography requirements. Its reservoirs take up a lot of space and must be situated in locations with large, naturally occurring elevation changes. A tower requires less surface area and can be placed nearly anywhere there is reasonably flat ground.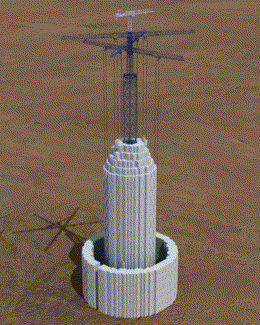 An Energy Vault tower in "discharge" mode, generating electricity to deliver back to the grid. Source: Energy Vault
In addition to supplying a flexible reserve of energy to compensate for the intermittency of renewables, the towers have the potential to provide other important ancillary services to maintain grid stability and reliability. Tower generation ramps up within milliseconds and reaches full power output in 2.9 seconds. The quick response represents another advantage over sluggish pumped hydro and opens the possibility of towers serving as rapid-response power sources in place of traditional solutions like generators. In this role, the towers could deliver regulation services, equalizing brief imbalances in the electrical grid such as frequency or voltage discrepancies. They could also provide black start services in the event of a grid outage, helping to restore power by supplying the minimum energy that some grid elements such as large generators required to start back up.
[Discover electrical power generators on Engineering360.]
Energy Vault's tower is one of many technologies competing for a share of the growing energy storage market. Read about how the tower stacks up against other energy storage concepts including lithium-ion batteries and other gravity-based approaches.