Total Petrochemicals to Build Cracker in Texas
Engineering360 News Desk | June 23, 2015
Total Petrochemicals says it selected Port Arthur, Texas, to be the site for a $1.6 billion petrochemical plant. The ethane cracker will produce a base ingredient in plastics from natural gas and has a capacity of 1,000 kilotons to supply ethane to the Gulf Coast region.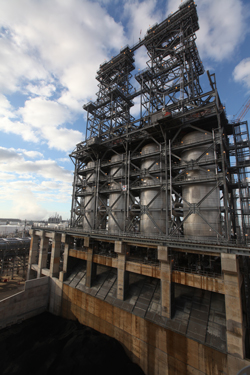 The new delayed coker at Port Arthur. Image credit: Total Petrochemicals"This project will cover our ethylene needs for our derivatives in the U.S. We have selected Port Arthur as the site for the cracker as it will bring the best integration with our current platform there. We intend to launch the (Front-End Engineering and Design) FEED and to select an engineering company in the coming months," says Melyssa Rodgers, communications advisor at Total Petrochemicals and Refining USA.
The plant could enter service as early as 2019. In the past three years, petrochemical companies have said they plan to invest more than $80 billion in new manufacturing infrastructure in the U.S.