Recycled water could quench LA's thirst by 2035
David Wagman | February 27, 2019
The Los Angeles Department of Water and Power could spend up to $8 billion over a 16-year period to recycle all of its wastewater by 2035 and use it to reduce the city's need for imported supplies.
Currently, recycling provides about 2% of the city's water, according to the Los Angeles Times, which reported the news.
That figure could rise to 35% if the city stops discharging its treated effluent into the Pacific Ocean and instead uses it to replenish aquifers that help supply municipal customers.

Tentative plans include making equipment upgrades at the Hyperion Water Reclamation Plant, new groundwater wells and construction of a 15 mile pipeline.
LA Sanitation operates and maintains more than 6,700 miles of sewer lines and 49 pumping plants in addition to four water reclamation plants across the city. The facilities have a combined capacity to treat 580 million gallons per day (mgd) of wastewater.
The Hyperion facility is the city's oldest and largest wastewater treatment facility, and has been operating since 1894. On average, 275 million gallons of wastewater enters the Hyperion Water Reclamation Plant on a dry weather day. The plant was designed to accommodate both dry and wet weather days with a maximum daily flow of 450 mgd and peak wet weather flow of 800 mgd.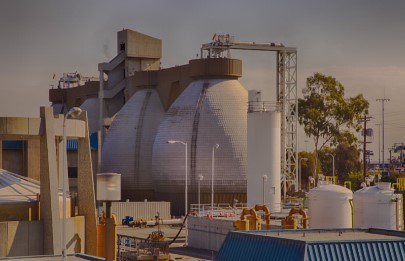 Water treatment facility. Source: LA Department of SanitationBy the late 1950s, the plant was discharging a blend of primary and secondary effluent through a five-mile ocean outfall. The plant also stopped a biosolids-to-fertilizer program and began discharging digested sludge into Santa Monica Bay through a separate, seven-mile ocean outfall.
The newspaper said that city officials are looking for guidance from a similar program in Orange County, California. Water agencies there have used purified wastewater for more than decade to recharge a regional aquifer used for drinking supplies. Sanitation districts in southeast Los Angeles County have been doing the same thing since the early 1960s, the paper said.
Funding sources for the proposed $8 billion project are not set, but the city may consider using bonds, grants and low-interest government loans. Planners also told the newspaper that by 2035, recycled water supplies could cost roughly the same as imports. Recycled water currently is "significantly" more expensive, the paper said.
State policy also bars the practice of putting recycled water directly into municipal systems. Recycled water first must be injected into aquifers or reservoirs to mix with other sources. The Times report said that the state is considering new standards that would allow water agencies to skip that step.
If that happens, the Los Angeles Department of Water and Power could use some of the treated wastewater for groundwater recharge and send some directly into the city's distribution system. The city could also divert stormwater into the sewer system, treat it and add it to groundwater reserves.