Computer engineer in China builds AI-powered shelter for stray cats
Marie Donlon | February 11, 2019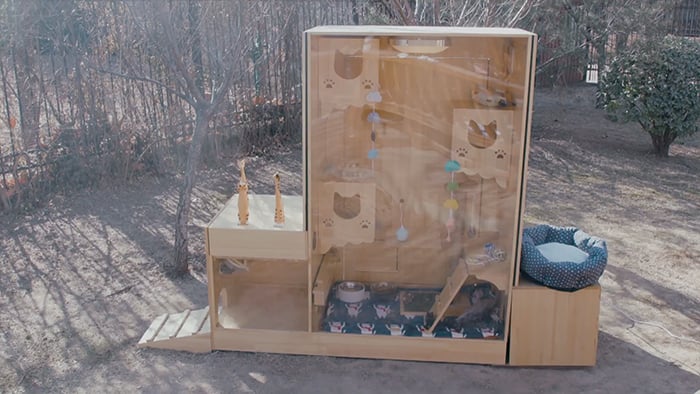 Source: Wan Xi, BaiduA computer engineer from Chinese internet company Baidu has built an artificial intelligence (AI)-powered shelter for stray cats.
The shelter, which is located in Beijing, was designed and constructed by Wan Xi and offers stray cats a place to take refuge during China's cold winter months. Using AI, the high-tech shelter is kept at a constant 80° F, offering strays a warm place to sleep and regularly dispensed meals. To ensure that only cats are able to access the shelter and not other types of animals, the shelter is outfitted with feline facial recognition technology. That same technology is also used to scan the cats for diseases and to determine if the cats have been either sterilized or neutered. If the technology detects any potential health issues, a nearby shelter is notified and volunteers are dispatched to the high-tech shelter to administer treatment. Currently, the high-tech shelter offers refuge to nearly 175 stray cats.
Xi was first inspired to construct a shelter after discovering a small cat occupying space underneath his car last winter, trying to keep warm. Yet, the idea grew to include AI and facial recognition tech following the discovery that an estimated 40,000 homeless cats live on China's streets, according to reports, and only four out of 10 of those cats are expected to survive the cold winter months.
"At first, I just wanted to provide them with a warm place in winter with food and water that is not frozen," said Xi.
The high-tech shelter isn't the first time AI or facial recognition technology has been used on animals. Recently, reports have emerged that facial recognition technology in particular has been used to halt chimpanzee trafficking. Likewise, the technology has also been used to monitor pigs amid a recent outbreak of African swine fever in China.