Bosch and Daimler to Develop Automated Parking Systems
Engineering360 News Desk | June 12, 2015
Daimler is set to work with Bosch to develop a smartphone app-controlled system that would enable a car to drop off its driver and passengers and then autonomously locate and maneuver into an available parking bay.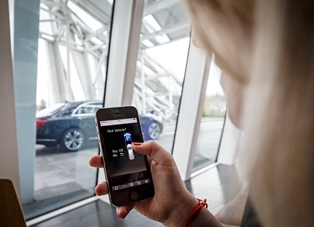 Bosch and Daimler to develop automated parking systems using an app from the smartphone. Image source: Bosch.comThe system initially would be integrated into car2go's vehicle fleet, which depends heavily on smartphone apps and connectivity for customers to book and pay for a car.
Implementation will require cameras and sensors to be installed in car parks.
Park assist, intelligent cruise control and autonomous breaking technologies are available in many sedan vehicles now. These systems autonomously maneuver a car into a garage, road-side space or into a parking bay on an outdoor car park.
Daimler and Bosch say the challenge will be in identifying an empty space within an indoor, multi-story car park, navigating to it and driving into it. The partners say that none of that is possible unless the parking structure itself is as connected as the cars within it.
Bosch will be responsible for developing intelligent infrastructure components, such as parking bay sensors and cameras.
"Fully automated parking will be ready for mass-production before fully automated driving," says Dr. Dirk Hoheisel, the responsible Board Member at Bosch. "Low driving speeds and the information from the car park infrastructure enable a fast implementation."