Tech that guides you to the perfect parking spot, every time
Gordon Feller, founder, Meeting of the Minds | May 27, 2021
How are advanced traffic technologies enabling cities, and city streets, to catch up with 21st century? Cities all over the world are working to harness the power of data in ways that make curbs and streets smarter, safer and greener.
That's why a growing number of cities are using sensors to help drivers navigate to the best parking space. This is the latest addition to a growing list of more than a dozen types of transactions which occur every day at the average street curb.
How big is the smart-parking marketplace? An Allied Market Research report from last April concludes that the smart-parking sector will reach $12.5 billion by 2027, up from $4 billion in 2020. It's a global trend; of that $12.5 billion, the U.S. will represent $7.8 billion of it. China will contribute $2.2 billion, with the nations of Japan, Canada and Germany behind that.
This article looks closely at one of the leading technology providers for this application: Cleverciti.
Bringing the parking space to you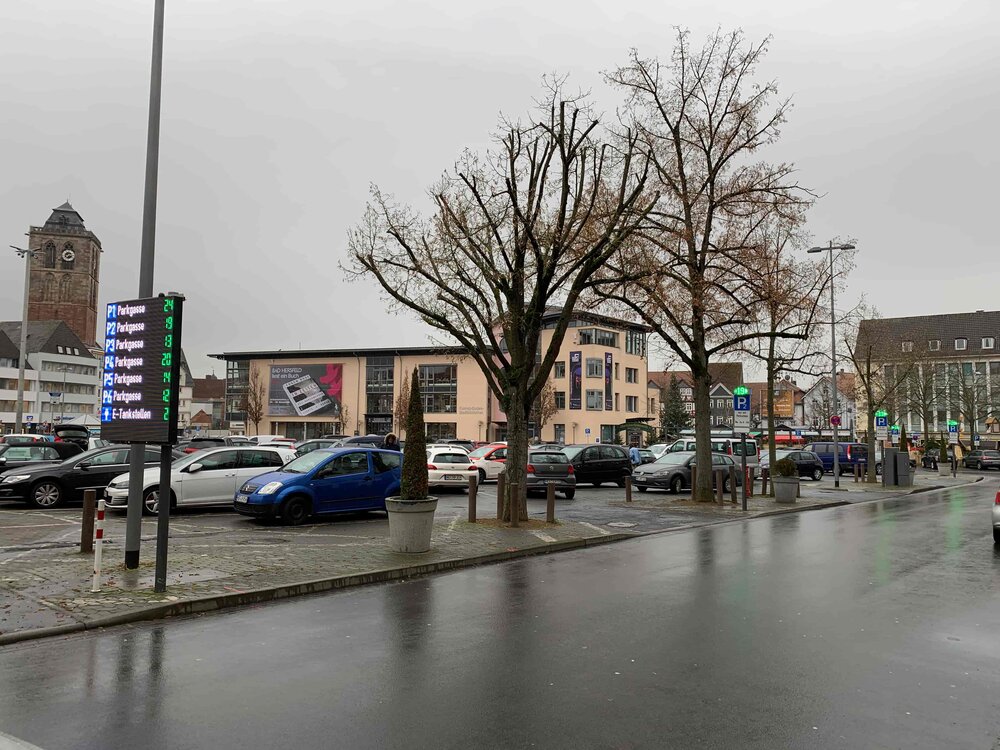 Cleverciti signage directs drivers to the best available parking spots. Source: Cleverciti
Cleverciti's approach is to actively monitor parking spaces via overhead sensors, which can be attached to overhead lampposts or other infrastructure. A single sensor typically covers 20 to 50 parking spaces, depending on its mounting height and position. With a range of up to 220 degrees, the sensors report the exact GPS position of vehicles and open parking spaces. This detailed information supports both marked parking spots, and floating/unmarked spots. The system measures the remaining space between cars to see if it is large enough to fit a vehicle.
The sensor systems' flexibility and plug-and-play architecture means that they can easily be relocated. Since these sensors are positioned high above the street, they are not disturbed by roadwork, construction, street cleaning or any objects creating RF interference of mechanical stress. They also are able to handle climate extremes, from the heat and sand of Dubai to the cold and snow of Banff, Canada.
A Close Up Look at One Deployment
Consider the experience at Ruhr Park, Germany's largest open-air shopping mall, with 1.2 million ft2 of retail space. Ruhr Park is a stylish shopping center with diverse stores, an open food court and a 14-screen cinema. It's a premier destination for area residents and tourists alike.
However, with millions of visitors annually, Ruhr Park suffered from frequent traffic jams and a poor parking experience. Ruhr Park was eager to modernize parking search across its 4,400 spaces to reduce traffic jams, improve the customer experience and reduce local emissions.
To minimize internal administration, they were looking for a managed end-to-end solution from detection to data visualization which also has the flexibility to integrate third party data from indoor garages. Options such as ground sensors were determined to not be a cost-effective or productive option because Ruhr Park required a scalable and flexible system that could be deployed simply "without disruption to existing business and expand simply as parking requirements grew over time", according to Klaus Arndt, Ruhr Park's technical manager.
"Customer satisfaction is paramount to our business," said Andreas Ulmer, Ruhr Park's center manager. "On busy days, we have several thousand cars here, and many of them have trouble finding parking. We knew we had to fix this problem to deliver an overwhelmingly satisfactory shopping experience."
After evaluating a multitude of smart parking technologies, officials at Ruhr Park selected Cleverciti. Upon arrival, customers are greeted with accurate, real-time guidance showing them where to leave the ring road and enter the facility to find a space. After pulling into a surface lot, the customer can see at a glance which parking aisles have available spaces. They simply head toward an aisle with a green indicator and pull into their space.
Each Cleverciti sensor at Ruhr Park accurately monitors the real-time occupancy of about 30 spaces and each sensor required only about an hour to install. A deep learning artificial intelligence inside the sensor ensures accurate detection.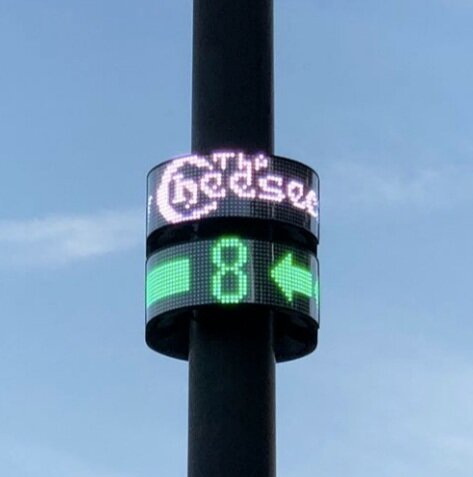 Wrap-around digital signs like this one update in real-time, and direct traffic to parking, events or exits, as needed. Source: ClevercitiCleverciti sensors and Cleverciti Circ 360's are deployed across the parking aisles to provide guidance to open spaces at the entrance to each aisle. Circ 360's are modular, turn-by-turn signage that wrap around existing poles. The displays can also be updated remotely to show emergency messaging, event notices or advertising.
Ruhr Park's mobile app now includes a feature that allows shoppers to choose the store they plan to visit and they are guided directly to the nearest available space to that store.
After deploying the system, the traffic jams that would appear on weekends and other busy shopping days are gone, with rare exception. The emissions from all those slow-moving cars and extra driving distance are eliminated, providing environmental benefits.
A digital dashboard, the Cockpit, provides Ruhr Park's management with data on parking operations, combined with analytics and enhanced reporting to help operators optimize parking strategy. Data -- such as length of stay -- can help to identify how each space is being used over the course of the day, ensuring the best possible return on this limited asset.
A comprehensive study was conducted with more than 100 customer interviews. More than 3 out of 4 Ruhr Park shoppers stated that the parking experience highly influences their overall shopping experience. Ninety-six percent of Ruhr Park shoppers said Cleverciti's parking guidance system helped them to find a free space. And 77% of Ruhr Park shoppers say parking search highly influences their shopping experience.
Leveraging the data, step-by-step
Step 1: Capture real-time space utilization and live counts of all spaces for on-street parking and surface lots. Now drivers can easily be guided to a space, traffic congestion is reduced, and parking revenues and local shopping revenues increase as well.
Step 2: Make parking data accessible online. Visitors can see each space and its live occupancy status on an overview map. They also can be navigated to the space that is nearest to their destination, dynamically rerouting when the availability situation changes.
Step 3: Combine the guidance and the wayfinding with the various payment platforms that are in use today. Cleverciti's payment application programming interface (API) integrates with the existing payment platforms used by cities, including meters and mobile payment solutions. This allows payment data to be matched with occupancy.
Step 4: The Automated Guided Enforcement API integrates with any cooperative enforcement platform. Every space is monitored in real-time and compared to payment status.
Step 5: All of the above data is consolidated for analysis. This includes space management, sign management, guidance, reporting, analytics, and visualization.
Summary
Cleverciti has had numerous other notable deployments. In Cologne, Germany, it reduced space search time by 45% and filled 65% more spaces. With many dozens of cities already using this or similar technologies, it creates tangible benefits for both governments and citizens. It could create revenue for cities for pay-to-park and better enforce parking violations. For citizens, it would be more convenient and easily integrate with current payment apps and smartphones.
About the author
For more than four decades, Feller has worked to accelerate urban innovation at the intersection of sustainability, smart policy and private investment – all with a focus on economic development. Gordon has worked for leading organizations: World Bank, Ford Motor, Stanford, IBM, Apple, ISO, Chevron, Bechtel, Lockheed, the UN, national governments, Reuters and others. From 2010 to 2017 he served as director of urban innovation at Cisco Systems. Gordon founded Meeting of the Minds, a unique global leadership network to support innovation-powered cities. He was the Obama appointee on the matter. He sits on corporate and non-profit boards, and served as a Global Fellow at the Smithsonian Institution's Wilson Center in Washington, D.C.