High-flow butterfly valve for HVAC applications
Shawn Martin | January 17, 2019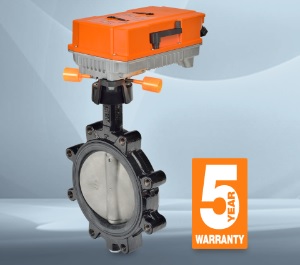 Source: BELIMO Holding AGBelimo's new butterfly valves for HVAC applications feature a patent-pending self-adjusting end-stop algorithm to ensure zero-leakage at 200 pounds per square inch (psi) in the closed position throughout the life of the valve.
The valve is manufactured with a cast iron valve body and has a 232 psi pressure rating. The valve includes an electronic fail-safe actuator with a brushless DC motor in a NEMA 4X enclosure.
Belimo's new high flow butterfly valves come equipped with building automation and control network (BACnet) communication protocol and near field communications (NFC). BACnet communications allow for data transfer to advanced building management systems while NFC facilitates programming, commissioning and troubleshooting, which can all be accomplished without power supplied to the actuator.
The electronic actuator accepts a universal power supply input of 24 to 240 V AC or 24 to 125 V DC. The brushless DC motor technology reduces energy consumption by as much as 80% when compared to traditional electronic actuators. It is also equipped with a highly visible position indicator and manual override via a detachable hand crank.
The valve is manufactured specifically for HVAC applications and features a large flow coefficient as required for high flow American National Standards Institute (ANSI) flanged piping systems. Common HVAC applications include chiller and boiler isolation, primary bypass flow control, cooling tower isolation, large air handler coil control and process control heat exchanger applications.