Watch a microfluidic sheet travel and change shape
S. Himmelstein | January 10, 2019
The functionality of microfluidic systems used in medical and industrial applications can be expanded with a 2D shape-changing sheet developed at the University of Pittsburgh. Chemical catalysis technology is harnessed to achieve autonomous movement and reconfiguration of the sheet in a reactant-filled fluid.
Self-propulsion is achieved with a coating of catalysts on an elastic sheet about the width of a human hair. The addition of reactants to the surrounding fluid initiates motive forces and the changes of its form. The catalytic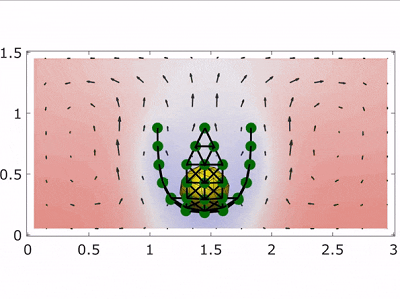 This graphic depicts the unwrapping of a catalase-coated flower-like sheet around a capsule. Black arrows indicate the directionality and magnitude of the flow field in the solution. Source: Abhrajit Laskar/University of Pittsburgh chemical reactions generate flows that transform the 2D sheets into mobile 3D objects, enabling them to adopt geometrical configurations appropriate for performing different functions.
Placing different catalysts on specific areas of the sheet and controlling the amount and type of reactants in the fluid resulted in a cascade of catalytic reactions where one catalyst breaks down an associated chemical, which then becomes a reactant for the next set of reactions. Active sheets were designed that could wrap an object, flap or creep across a surface.
After cutting the sheet into the shape of a four-petal flower and placing it on the surface of a microfluidic device, the researchers were able to control the chemistry of the petals to open and close individually, creating gates that perform logic operations, as well as generate particular fluid flows to transport particles throughout the device.
The shape-morphing sheet technology could be of use in the design of soft robotic devices or microfluidic systems that can transport cargo.
The research is published in Science Advances.