Space Technology May Speed Up Airport Security
Marie Donlon | December 06, 2018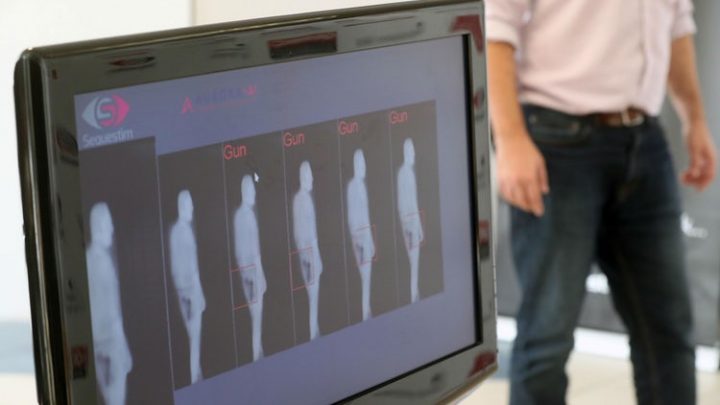 Source: Cardiff UniversityCardiff University scientists in collaboration with Sequestim Ltd. have developed a walk-through scanner capable of imaging human body heat, potentially improving the wait times of lines at airport security kiosks while also improving security.
Thanks to computer learning, the scanner can tell threats from non-threats without requiring passengers to stand still or to take off outerwear as they pass through the scanner.
"Passenger numbers are expected to double in 20 years, putting airport security facilities under immense pressure," said Ken Wood, sales and marketing director of Sequestim Ltd., a joint venture between Cardiff University and QMC Instruments Ltd.
"Our scanner combines a number of world-leading technologies developed by our team here in the UK. It uses the human body as a source of 'light,' in contrast with existing scanners which process reflected and scattered millimetre-waves while the passenger is required to strike a pose."
Using human body heat as a source of light means that concealed objects will appear as dark shadows on the monitors, thereby making detection easier. Additionally, the scanner takes only a few seconds to work. Passengers can simply walk through without removing outerwear or personal effects such as phones.
Originally intended to be used to observe the farthest points of the universe — for instance, to study how stars emerge from clouds of dust and gas — the Cardiff technology is sensitive enough to see the glow of a 100 watt light bulb at 500,000 miles away, which is twice the distance to the moon.
"It detects millimetre-waves, which are just like visible light but at a wavelength more than one thousand times longer," explained Wood.
Because the scanner is capable of revealing concealed objects, it has also attracted the notice of Border Force, who is responsible for the frontline border control operations at air, sea and rail ports in the United Kingdom.
U.K. Aviation Minister Liz Sugg said: "We have a proud history of innovation here in the UK and passenger safety across all modes of transport remains an important priority for the government. The Future Aviation Security Solutions programme demonstrates our support for pioneering projects that can help to reduce security threats in airports. I am pleased to see that the funding awarded to Sequestim has helped the team take space technology and trial it as part of a new passenger screening system at Cardiff Airport."
The new scanners are not only expected to improve wait times and security at airports. The technology may also impact the local economy in Wales, according to reports.
First Minister of Wales, Carwyn Jones, said: "Welsh Government and Cardiff Airport are delighted to be hosting the proof-of-concept trial of Sequestim's innovative technology. This cutting-edge security camera not only promises a huge improvement in our experience of air travel, but also brings with it the prospect of job creation as Sequestim aims to manufacture future scanners here in Wales."
The objective of the trial is aimed at proving that passive terahertz imaging is fast, convenient, robust and versatile, according to the research team.
This latest development follows several recent headlines concerning different types of advanced technology being used particularly at transportation hubs all over the world. Facial recognition, in particular, is one emerging high-profile technology while other forms of biometric identification, including iris scanning, are beginning to appear as well.
Despite such advancements, problems continue to plague airport security, with recent reports claiming that 60% of Americans have boarded planes without proper identification.