Digital Pneumatics: This Single Valve Device Replaces Over 50 Components
Eric Olson | November 21, 2018
As manufacturers seek to improve production efficiency in a world where consumers are increasingly demanding product customization, engineers are on the lookout for ways to keep production line complexity under control. A new valve device from Festo helps simplify designs by replacing the functionality of potentially dozens of individual components — including directional and proportional flow control valves, pressure regulators, pressure sensors and shock absorbers — with a single modular platform.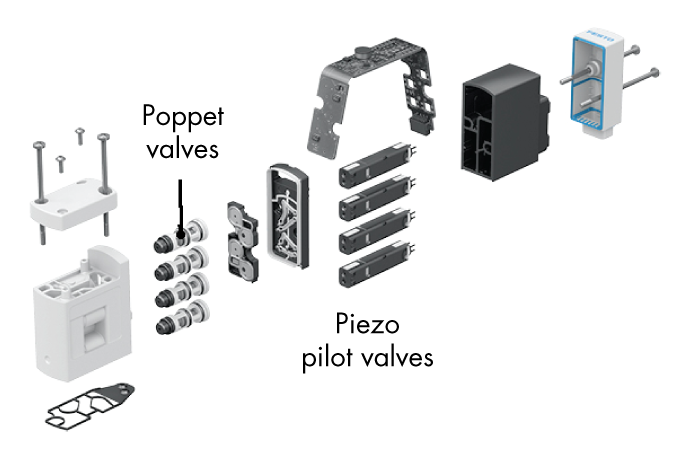 Exploded view of a single valve module in the Motion Terminal illustrating its internal components. (Click image to enlarge.) Source: Festo
Reconfigurability
The VTEM Motion Terminal intelligently controls an array of identical pneumatic valves to perform the functions of numerous parts in a single device. VTEM can be remotely instructed to morph its configuration to switch between multiple directional control valve functions including two times 2/2-way, two times 3/2-way, 4/2-way and 4/3-way. It can also serve as a proportional pressure regulator among other advanced pressure and flow control capabilities.
On-demand reconfiguration is a prime benefit of the Motion Terminal that results in a variety of advantages compared to conventional setups. Since the Motion Terminal can switch functions with the push of a button, time-consuming manual changeouts of components are eliminated. With fewer parts, the system is easier to maintain and is more compact. A common platform fulfilling many roles also promotes standardization which lowers hardware costs, speeds up the design process and increases reliability.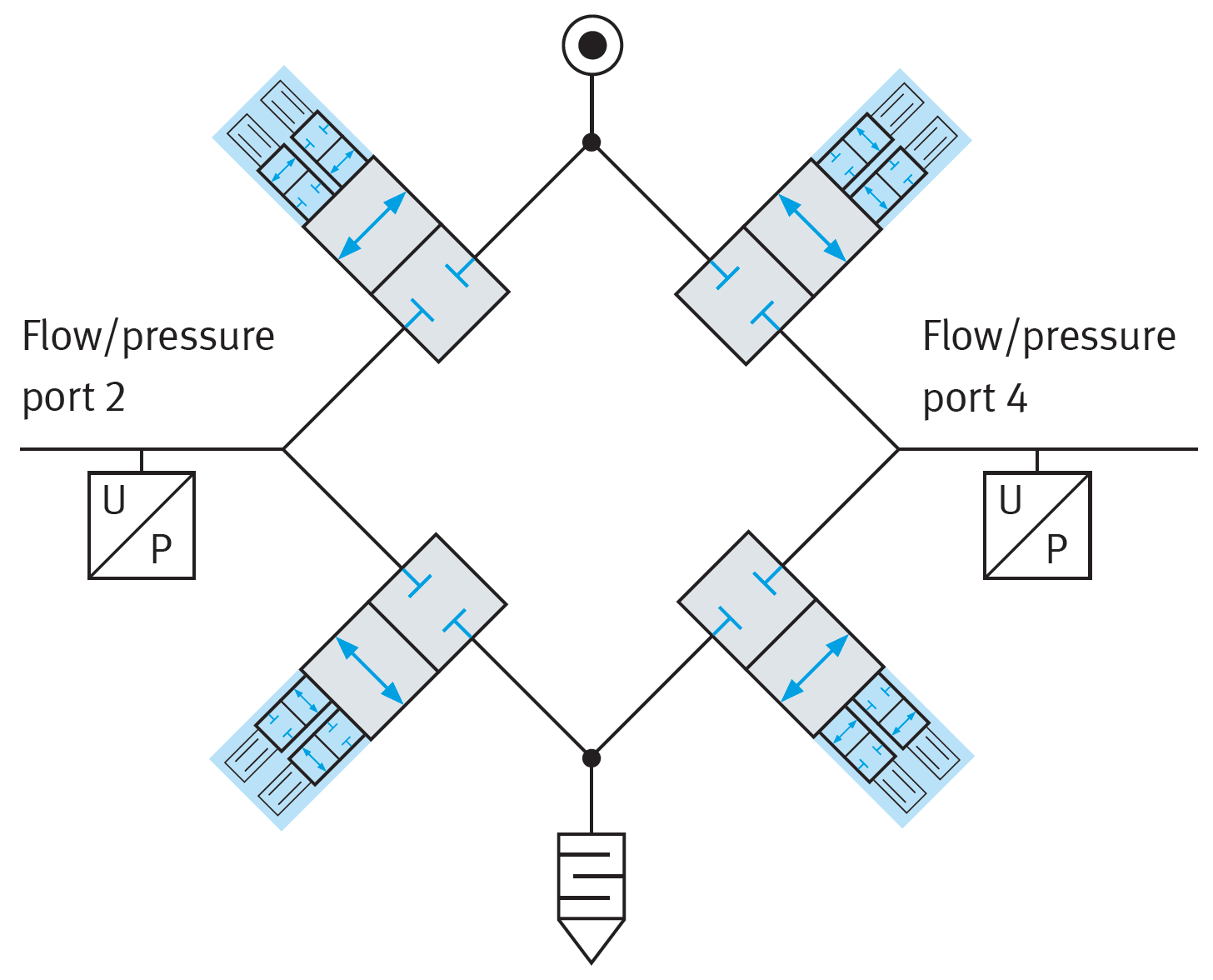 Diagram illustrating the pneumatic bridge circuit contained in each valve module, with four diaphragm poppet valves connected in series controlled by two piezo pilot valves each. (Click image to enlarge.) Source: Festo
The Motion Terminal's reconfigurability is a result of an innovative bridge circuit design that provides independent pressurization and exhaust for each valve. The circuit is comprised of four series-connected 2/2-way diaphragm poppet valves controlled by four piezo pilot cartridge valves. Each pilot valve cartridge contains 2/2-way piezo valves that proportionally control a poppet valve.
(Discover valves and learn more about them on Engineering360.)
Integrated Sensors
Integrated pressure and stroke sensors monitor each individual valve, enabling highly accurate flow control and pressure regulation. Pressure sensors measure the pressure at each valve, while stroke sensors continuously track the degree of opening of each valve so that supply and exhaust flow rates are precise.
With detailed feedback information from each valve connection, the Motion Terminal's controller precisely regulates the flow and pressure through each valve. The controller adapts in real time to changing operating conditions to, for example, optimize the fill rate of a pneumatic cylinder.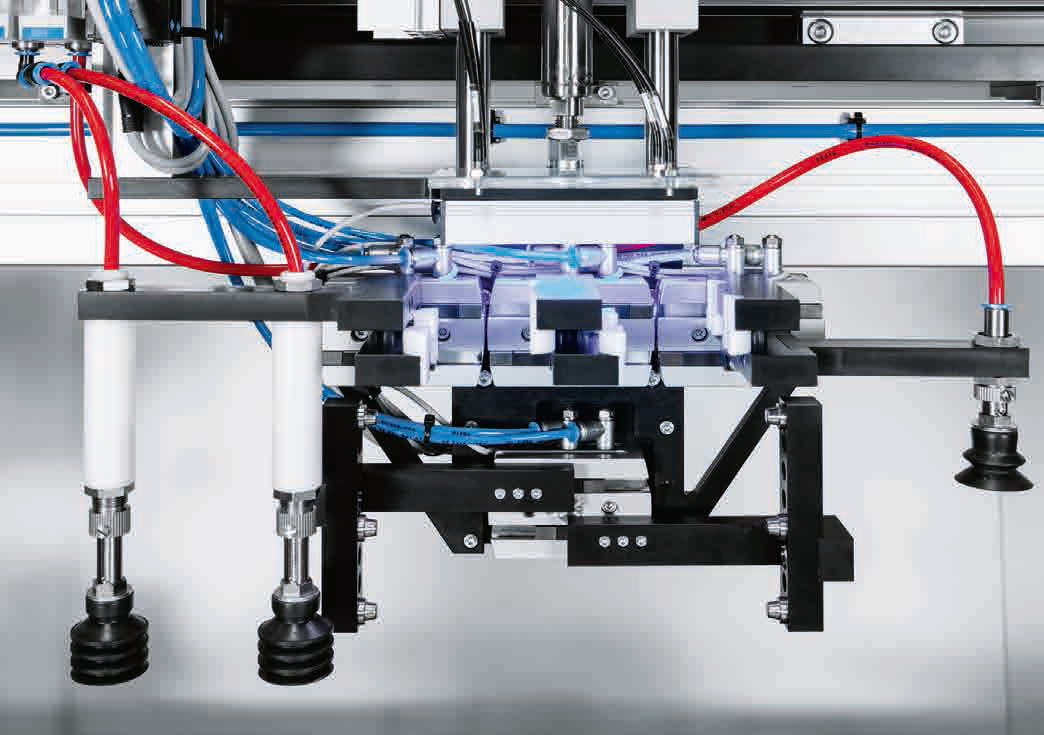 Among the solutions possible with a Motion Terminal is a pick-and-place vacuum positioning system. The Motion Terminal precisely controls vacuum gripping strength, the force of the ejector pulses that release objects from the grippers, and the pneumatic pressure driving the positioning cylinders — all with fewer components than a traditional setup. Source: Festo
(Discover pneumatic cylinders and learn more about them on Engineering360.)
A further benefit of sensor integration is a continuous stream of diagnostic data which provides a detailed view of system efficiency that is invaluable for preventive maintenance and early detection of problems like leaks.
Festo claims it is digitizing pneumatics with the Motion Terminal. Transformational abilities, integrated sensing, Ethernet connectivity and advanced control functions enabled by algorithmic computation are all aspects of the Motion Terminal's status as a cyber-physical system.
Motion Apps
Each of the Motion Terminal's valves is managed by the device's controller, which follows sets of instructions contained in modular programs known as Motion Apps. Individual apps can be assigned to each of the terminal's valves to provide basic and proportional directional control functions, proportional pressure regulation and supply and exhaust flow control. In addition, advanced apps are available to provide enhanced control functionality and intelligent custom modes.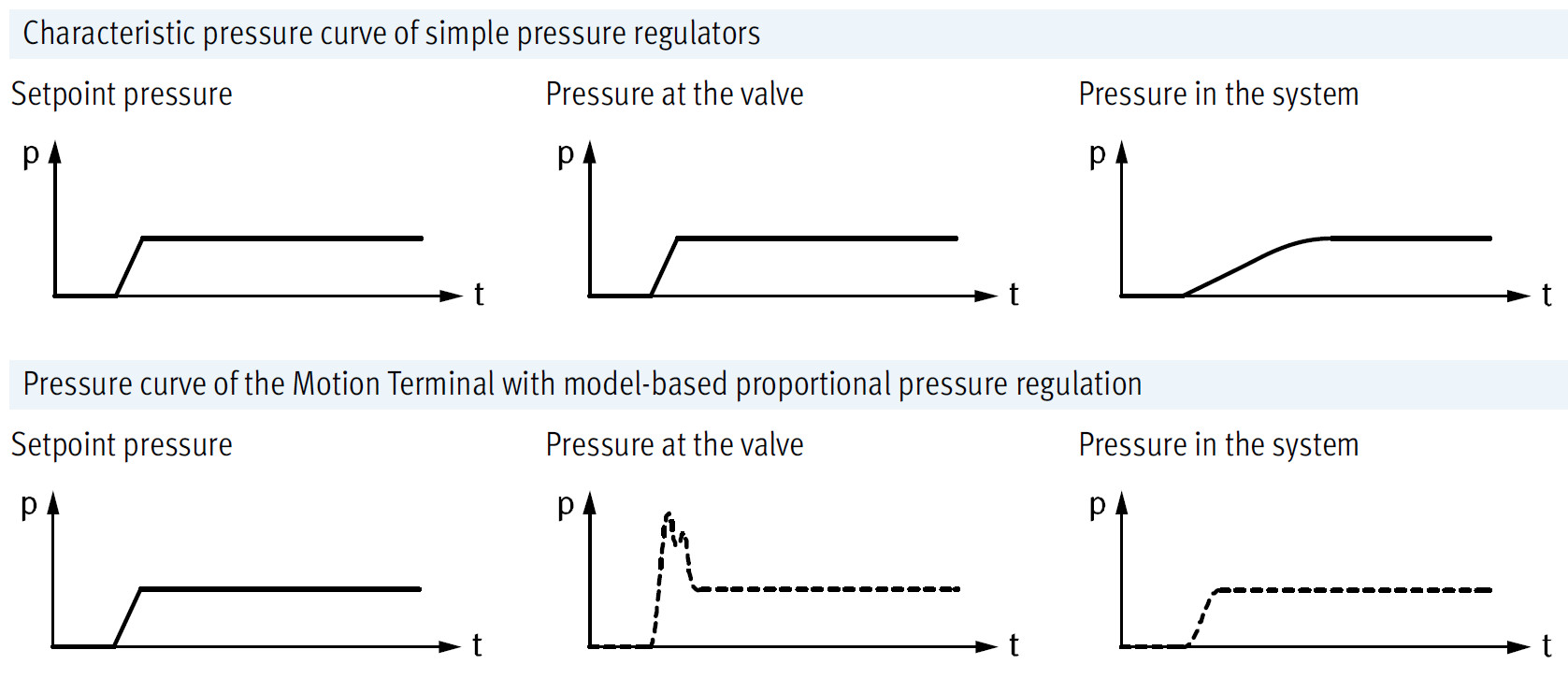 Motion Terminal's intelligent model-based proportional pressure regulation app brings system pressure to the setpoint faster than conventional pressure regulators. (Click image to enlarge.) Source: FestoFor instance, the model-based proportional pressure regulation app automatically varies the pressure at the valve to optimize the connected system's pressure, resulting in faster filling times and reduced error. This is achieved by modeling the system, taking into account specified parameters including tube diameter, tube length and system volume as well as information from the Motion Terminal's internal sensors. With this approach, the need for external sensors monitoring system pressure is eliminated. The app is ideal for applications like contact pressure control, process valve actuation or controlling cylinder forces with known effective areas.
(Discover pressure regulators and learn more about them on Engineering360.)
If one of the Motion Terminal's valves drives a pneumatic cylinder, operators might consider assigning it the Eco Drive app. This app saves energy by supplying the minimum pressure needed to operate the cylinder.
The Soft Stop app is advantageous in situations where fast operation with minimal equipment wear is desired. It reduces cycle times by optimizing pressure as the piston moves between end positions. The algorithm also provides cushioning without the use of shock absorbers by gently slowing the motion at the end of the stroke.
Modules
The Motion Terminal is comprised of a stack of several connected modules. Bookending the left side is a CPX module, Festo's special field bus system which allows communication with remote systems for centralized control of valve operation.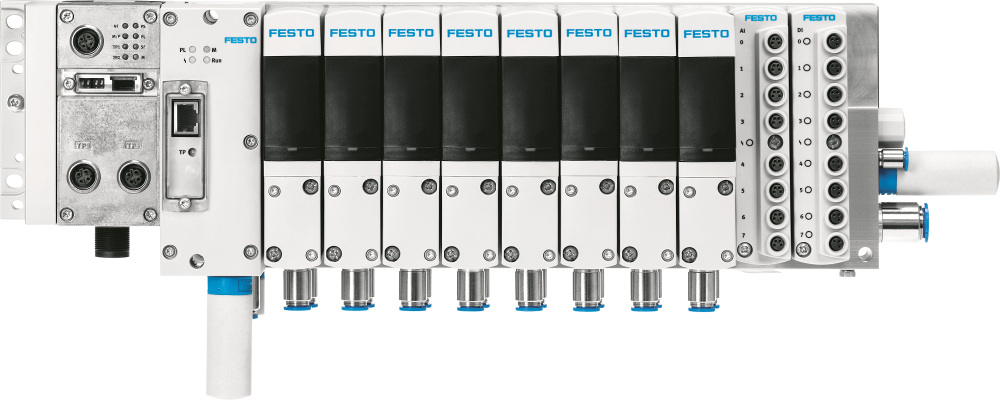 Festo's Motion Terminal. (Click image to enlarge.) Source: Festo
Next up is the device's controller module, which serves as the pneumatic interface between the CPX module and the rest of the device. The controller module also contains an RJ-45 port for the Motion Terminal to be configured over Ethernet using a WebConfig interface. Optional CODESYS programmability and OPC UA compatibility for open-standard industrial automation control are also available.
To the right of the controller module is the pneumatic manifold linkage module with space for four or eight valve modules. Each of the Motion Terminal's valves is a high-performance flow control device capable of handling flow rates up to 480 L/min at pressures ranging from 3 to 8 bars. Operating at a nominal voltage of 24 V DC, each valve consumes a maximum of just 1.25 W, while achieving fast response times of less than 45 ms and on/off switching times below 8.5 ms.
At the far right end of the Motion Terminal, optional input modules can be attached to enable additional external sensor inputs including 4 to 20 mA analog current and digital PNP logic inputs. The sensor signals received at these modules can be used directly by Motion Apps or passed to a central control system.
As a cyber-physical system pushing the boundaries of pneumatic digitization, Festo's Motion Terminal is an example of one of the intelligent components at the forefront of Industry 4.0. Stay tuned to Engineering360 to read more about how conventional production elements are being overhauled to usher in an era of enhanced productivity in automation.
Stay tuned to Engineering360 to read more about cyber-physical systems.