Introducing Robot De Niro, a Robotic Caregiving Assistant
Marie Donlon | November 09, 2018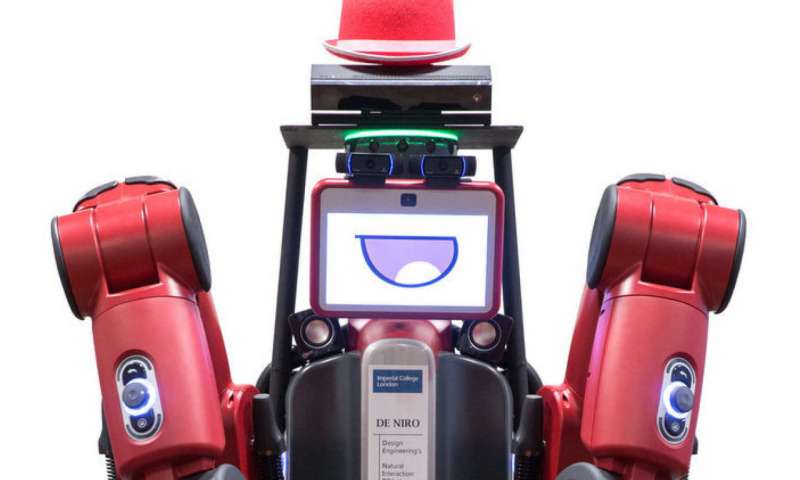 Robot De Niro. Source: Robot Intelligence Lab, Imperial College LondonResearchers at Imperial College London introduced their take on the future of healthcare robots with Robot De Niro, a robotics research platform that supports caregivers and interacts with patients.
"The objectives of our project were surprisingly simple: to build something that could demonstrate social utility and contribute to Dr. Kormushev's Robot Intelligence Lab," said Fabian Falck, one of the researchers who developed Robot De Niro. "We had a handful of grand ideas, but in the end, decided to teach a robot to play fetch. We considered object retrieval to be incredibly valuable and applicable to many situations, for instance fetching medicine for frail patients who struggle to move. Our project also equipped DE NIRO with capabilities such as navigation, face recognition and object manipulation."
According to Falck, Robot De Niro is capable of completing advanced and complex manipulation tasks and can also interact with humans.
"Robot DE NIRO combines Rethink Robotics' Baxter robot with a wheeled mobile platform that makes it capable of moving around," Falck explained. "In addition, DE NIRO was enhanced by a variety of sensors such as a Microsoft Kinect and laser scanners that make it capable of perceiving its surroundings."
Setting Robot De Niro apart from other robots are its safety features as the bot is designed to interact with elderly and vulnerable people.
Falck said, "For instance, passive compliance in the robot's arms absorbs physical impact with a person. When developing its software, we placed particular emphasis on collision avoidance during manipulation and navigation of the robot, so that it acts safely regardless of the action of the user."
Falck and his team integrated various machine learning and control algorithms into a single bot.
"We focused on the holistic design rather than perfecting a single task, with the hope that we can use this platform to explore further use cases in the future," Falck said.
The final iteration of Robot De Niro fuses ROS, an open-source robot operating system, with a handful of other open-source projects. Applying open-source code and using online resources, the team built the robot quickly.
So far, Robot De Niro has proven itself a promising tool in the healthcare industry, successfully assisting both caregivers and those receiving care. However, researchers acknowledge that to better perform in that setting, it needs to expand its awareness of the world.
"We aim to implement further safety improvements by increasing DE NIRO's awareness, such as a 360-degree camera rig or the application of a 3D LIDAR," Falck said. "In addition, we will improve the point-cloud based manipulation techniques to allow a more generic grasping capability and enhance the currently rather rudimentary autonomous capabilities for navigation to act smoothly in unknown environments."
The research is published in the journal arXiv.