Plastic Bottle Waste Repurposed as Useful Aerogels
S. Himmelstein | November 02, 2018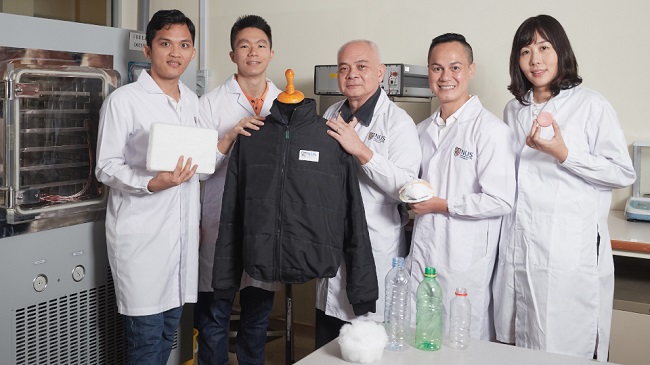 NUS researchers turn plastic bottle waste into ultralight PET aerogels suitable for various applications, including heat insulation and carbon dioxide absorption. Source: NUS
A method for converting ubiquitous plastic bottle waste into a useful product has been developed by researchers at National University of Singapore (NUS).
Non-biodegradable polyethylene terephthalate (PET) waste is recycled as PET-silica aerogels with diverse applications. Acid hydrolysis at pH 2.5 is followed by treatment with an ammonium hydroxide solution at pH 7 to induce condensation and formation of aerogel sheets.
Different surface treatments can customize the soft, durable and super-hydrophobic material for varied uses. Incorporation of methyl groups renders the aerogels, which offer superior absorption capacity, ideal for oil spill cleanup.
Coating the aerogel with fire retardants imparts heat insulation properties of value for use in the lining of firefighter clothing. The PET aerogel is 90% lighter in weight than conventional thermal lining and withstands temperatures of up to 620° C, which is seven times higher than linings currently in use.
When coated with an amine group, the PET aerogel shows great affinity for the absorption of environmental carbon dioxide. A thin aerogel layer was embedded into a commercial fine particle mask to demonstrate its ability to effectively absorb both dust particles and carbon dioxide.
The researchers have filed a patent for the novel PET aerogel technology and are now investigating methods to achieve simple surface modification to the material for absorption of toxic gases such as carbon monoxide.