Watch: Cotton Fabrics Repurposed as Medical, Military Aerogels
S. Himmelstein | February 13, 2018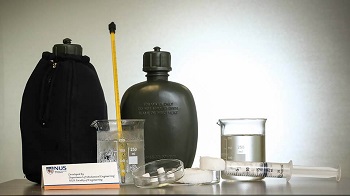 Cotton aerogels can be used to keep military canteens cold and in hemorrhage control devices to stop bleeding. Source: National University of Singapore
Aerogels are among the lightest materials ever manufactured but are costly to produce. The economics of fabricating this versatile material have improved with a new production process based on the use of waste cotton fabrics.
Researchers at National University of Singapore had previously developed paper waste-based aerogels. Exploiting cotton fabric instead yields a highly compressible and ultra-lightweight aerogel that can recover up to 97 percent of its original size when placed in water. A fabrication time of eight hours is 20 times faster than current commercial processes. Researchers envision applications in hemorrhage control and heat insulation
Current hemorrhage control devices comprise a syringe filled with small capsules of cellulose-based sponge. The syringe is inserted into the wound to release the capsule, which expands and applies pressure on the wound to stop the blood flow. The researchers contend that the expansion and absorption rates of cellulose-based sponges are still relatively slow.
Highly compressible hybrid cotton aerogel pellets designed by the team are said to be more effective than these sponges for treatment of deep wounds. Each pellet can expand to 16 times its size in 4.5 seconds and absorbs more blood three times faster than existing pellets.
A thermal jacket for the military canteens that soldiers use to carry fluids was also developed. The 200-gram jacket comprises cotton aerogel sandwiched between neoprene and polyester fabrics. This cotton aerogel-insulated military canteen offers better heat insulation performance compared to commercial insulated water bottles such as FLOE bottles, and is highly comparable to that of vacuum flasks. However, FLOE bottles and vacuum flasks are much heavier and more costly.