Bacteria Feast on Plastic Waste
Engineering360 News Desk | March 14, 2016
Poly(ethylene terephthalate) (PET) is used extensively worldwide in plastic products -- 56 million tons of PET were produced worldwide as recently as 2013. The plastic is resistant to biodegradation and a relatively small fraction of annual production is recycled, leaving millions of tons in landfills and oceans.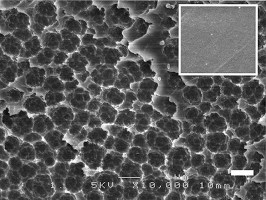 Scanning electron microscope image of PET film degraded by 201-F6 bacterium (inset shows intact film). Image source: Yoshida et al. Researchers from Keio University in Japan may improve the viability of biodegradation as a remediation and recycling strategy for this plastic polymer. More than 200 PET-contaminated samples including sediment, soil, and wastewater from a plastic bottle recycling site were screened for natural microbial communities. A bacterium, Ideonella sakaiensis 201-F6, that used PET as its major energy and carbon source was isolated.
When grown on PET, this strain produced two enzymes capable of hydrolyzing PET and the reaction intermediate, mono (2-hydroxyethyl) terephthalic acid. Both enzymes are required to enzymatically convert PET efficiently into its two environmentally benign monomers, terephthalic acid and ethylene glycol. The bacteria break down a thin film of PET over a six-week period at 30 C (86 F).
Additional research is needed before these findings translate into commercial-scale applications.