Liquid Gold: Bio-Bricks, Fertilizer Produced with Nutrient Recovery Urinal
S. Himmelstein | October 27, 2018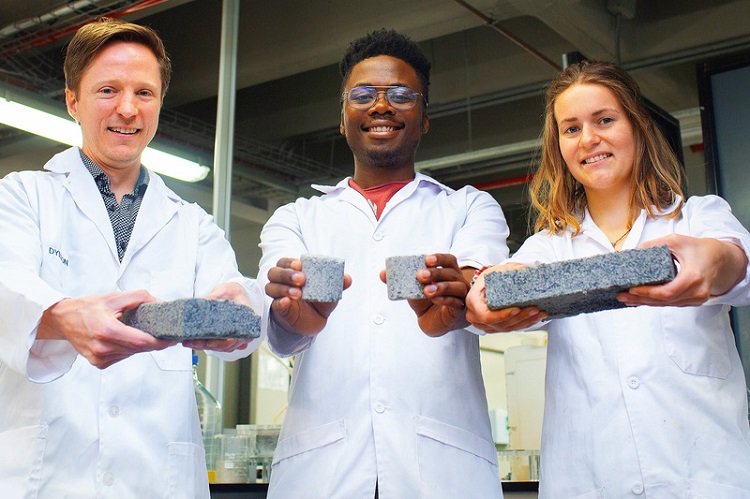 The world's first bio-brick made using human urine was unveiled at the University of Cape Town. Source: University of Cape Town
A sustainable approach to the production of bio-bricks as an innovative building material is being pioneered at the University of Cape Town, South Africa. Bricks of different shapes and tensile strengths are grown from a common waste material: human urine.
The bio-brick process also yields nitrogen and potassium, which are important components of commercial fertilizers. About 97% of the phosphorus present in urine can be converted into calcium phosphate for use in commercial fertilizer formulations.
The waste recycling scheme starts with a fertilizer-producing urinal that consumes no water and does not have to be connected to a conventional sewage line to operate. Designed with a plastic funnel and collection tank, the urinal recovered 11.23 ± 1.3 g of solid fertilizer per kg of urine, and the researchers estimated that 1,000 nutrient recovery urinals could produce an income of $85/day.
The liquid remaining after solid fertilizer recovery is used to produce bio-bricks via microbial carbonate precipitation. Urease enzyme produced by bacteria grown in loose sand decomposes the urea component of urine and generates calcium carbonate, which in turn cements the sand into the desired brick shape. The longer the bacteria are cultivated, the stronger the final brick.
This novel approach offers a simple solution for collecting urine within office blocks or other commercial buildings. In addition, the recycling of nutrients at source offers a more sustainable and environmentally friendly method for fertilizer production, since minimal energy is required and "waste" streams are converted into useful products.