Dendrites Detained by Li Metal Battery-Nanotube Duo
S. Himmelstein | October 26, 2018
Lithium metal batteries and dendrites have a tough time co-existing. Whiskers of lithium that grow inside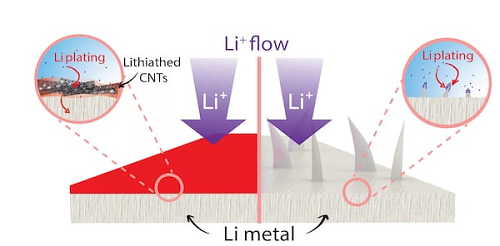 An illustration shows how lithium metal anodes developed at Rice University are protected from dendrite growth by a film of carbon nanotubes. Source: the Tour Group/Rice Universitybatteries can cause shorts or even fires.
To tackle this tentacle problem, Rice University researchers turned to carbon nanotube technology to suppress dendrite formation. Lithiated multiwall carbon nanotubes were demonstrated to function as a controlled Li diffusion interface that prevents dendrite growth.
After Li metal foil is coated with a multiwalled carbon nanotube film, the Li dopes the nanotube film. The color changes from black to red as the film diffuses Li ions. The film discharges these stored ions during battery operation and the underlying Li anode refills it, maintaining the film's ability to stop dendrite growth.
Dendrite formation was controlled in a test battery with a sulfurized-carbon cathode over 580 charge/discharge cycles. A full Li metal battery supported pulse discharges at high currents and over 450 cycles at different rates with coulombic efficiencies approaching 99.9%.
The nanotube protection could lead to increased use of Li metal as the anode in the next generation of batteries. Li metal charges much faster and holds about 10 times more energy by volume than the Li-ion electrodes widely used in electronic devices and automobiles.