This Port Is Deploying a Microgrid to Support More Electrification
David Wagman | October 11, 2018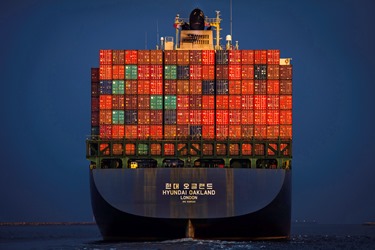 The Port of Long Beach is the nation's second busiest, handling nearly $200 billion in cargo each year. Source: The Port of Long BeachThe Port of Long Beach in California will build a $7.1 million microgrid in an effort to show the technology's potential effectiveness in providing electricity for critical operations at the nation's second-busiest seaport.
The port will install a solar carport, power storage systems and controls at its security headquarters, the Joint Command and Control Center. The California Energy Commission is providing a $5 million grant for the project.
The port's terminals are increasingly using electric equipment to move cargo, and officials are looking at ways to build energy resiliency into these operations.
As part of the project, the port will compile and analyze 12 months of performance data and make that information available to other California seaports. The goal of the California Energy Commission's grant is to accelerate development of microgrids, which it says may be important tools to improve the effectiveness of renewable energy.
Schneider Electric has a $5.2 million contract to deploy the microgrid. Its scope of work includes installing an integrated system of distributed energy resources and microgrid controls intended to enhance resiliency through long-term islanding capabilities at the port's Joint Command and Control Center.
Schneider will design and install the microgrid. Components will include a preconfigured energy control center, mobile storage, microgrid controls and a cloud-connected, demand-side energy management software platform. The scope of work will also include power monitoring and SCADA tools.
The project will also include installation of a 300 kilowatt (kW) array photovoltaic (PV) system for energy production, integration of a 250 kW mobile battery, a 500 kW diesel generator and controls to allow demand response, peak shaving and islanded operations for energy resilience.
Funding from the California Energy Commission's Electric Program Investment Charge (EPIC) uses ratepayer money to support demonstration and deployment projects that achieve the state's energy policy goals.