Microgrid with Solar PV Enters Service for Schneider Electric
David Wagman | April 06, 2017
Duke Energy Renewables says its first microgrid project is now operating on the Schneider Electric Boston One Campus.
REC Solar, a national provider of commercial solar and energy, built and will operate the solar array. Duke Energy Renewables, which owns a majority interest in REC Solar, owns the microgrid system and solar array and is selling the power to Schneider Electric through a long-term power purchase agreement.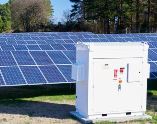 Solar array at Schneider Electric campus.The microgrid is expected to generate more than 520,000 kilowatt-hours (kWh) of electricity per year. It includes a 354-kilowatt (AC) solar array with 1,379 solar modules. The microgrid also incorporates a natural gas generator, allowing the solar panels to operate during grid outages.
(Read "How Does Solar Energy Work? PV Basics.")
In addition to the Boston One site, Duke Energy Renewables, Schneider Electric and REC Solar have a second microgrid project underway for the Montgomery County, Maryland, Public Safety Headquarters and Correctional Facility.
Duke Energy Renewables will own the two Montgomery County microgrids, which will consist of a 2-megawatt (AC) solar project and two combined heat and power (CHP) units. The CHP systems will save energy by using waste heat from on-site power generation to heat and cool the buildings.
REC Solar will build and operate the solar facility, and Schneider Electric will design and implement the microgrid project, which is expected to become fully operational in 2018.
"Island mode" capabilities of the microgrids will allow continued operation of Montgomery County's critical facilities for extended periods during power outages.
The Montgomery County microgrids will produce approximately 3.3 million kilowatt-hours of solar energy and 7.4 million kilowatt-hours of CHP each year.