Progress in Rechargeable Lithium-Oxygen Battery Performance
S. Himmelstein | August 27, 2018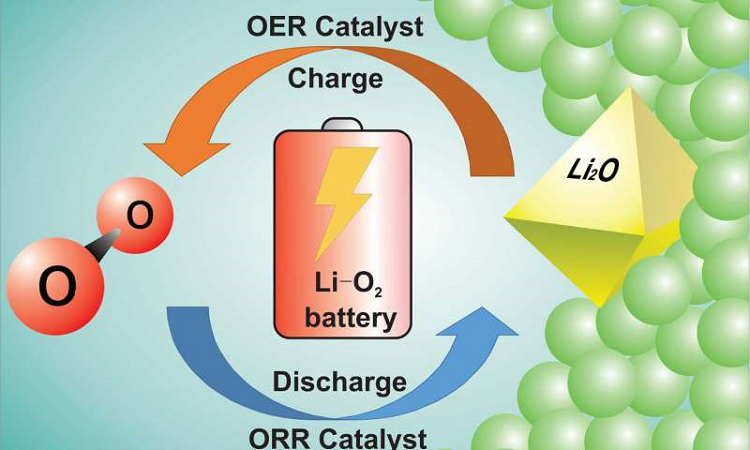 A four-electron redox process in a Li-oxygen cell is electrocatalyzed by a bifunctional lithiated nickel oxide-molten salt composite cathode at elevated temperature to form Li2O. Source: Chun Xia and Chun Yuen Kwok, University of Waterloo
Batteries based on lithium and oxygen could offer energy densities an order of magnitude larger than that of lithium-ion cells. A shortcoming of this technology is the formation of superoxide and peroxide products that degrade the system. The superoxide also consumes the organic electrolyte, resulting in a limited cycle life.
By replacing the organic electrolyte with a more stable inorganic molten salt and switching the porous carbon cathode to a bifunctional metal oxide catalyst, researchers from University of Waterloo, Canada, eliminated these obstacles to superior battery performance. The more stable lithium oxide product is formed instead of lithium peroxide when the device is operated at 150° C. The result is a highly reversible lithium-oxygen battery with coulombic efficiency approaching 100%.
The battery maintains excellent charging characteristics by storing oxygen as lithium oxide instead of the peroxide, and it achieves the maximum four electron transfer in the system, thereby increasing the theoretical energy storage by 50%.