Separating Rare Earth Elements with UV Light
Engineering360 News Desk | May 12, 2015
Researchers at the KU Leuven Department of Chemical Engineering have designed a process to separate two rare earth elements—europium and yttrium—with UV light instead of with traditional solvents.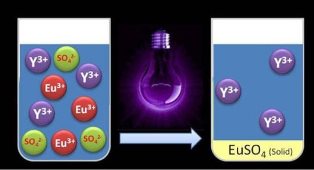 This graphic illustrates separating rare earth metals with UV light. Credit: KU Leuven - Department of Chemical EngineeringThey found that the elements can be recovered from red lamp phosphor, a powder that is used in fluorescent lamps. Their method recycles the red lamp phosphor as a whole in order to reuse the powder in lamps.
According to Professor Tom Van Gerven at the Department of Chemical Engineering, the process is complicated.
The traditional method dissolves europium and yttrium in aqueous acid, he says. An extractant and a solvent are then added to the aqueous liquid. This leads to two separate layers known as "phases": an aqueous layer containing the rare earth metals and a solvent layer with the extractant. When the two layers come into contact, one of the two rare earth metals is extracted to the solvent. The other rare earth metal remains in the aqueous layer."
The process needs to be repeated several times to recover a high percentage of the rare earth metal.
"When we shine UV light upon the solution of europium and yttrium, we add energy to the system. As a result, one positive charge per europium ion is neutralized," says Bart Van den Bogaert, one of the researchers. "When we add sulphate, only the europium reacts with it. The result is a precipitate that can easily be filtered, while the yttrium remains in the solution," he says.
Using UV light for this process does not leave behind any harmful chemicals in the liquid. The process also has high separation efficiency—more than 95% of the europium is reported as recovered from the solution.