A Green Approach to Recovering Rare Earths from Fluorescent Lamps
S. Himmelstein | November 05, 2018
Rare-earths (REs) are key components used in computing and renewable energy technologies. Their limited availability due to supply-demand and pricing trends has prompted increased focus on secondary sources for RE reclamation. End-of-life (EoL) nickel-metal hydride batteries, permanent magnets and fluorescent lamps (FL)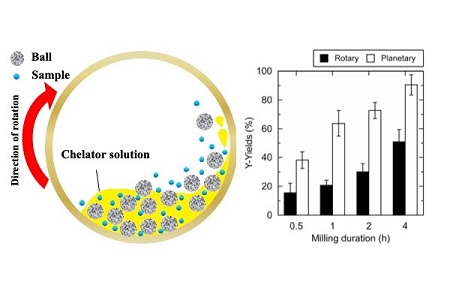 Schematic of the chelator-assisted wet-milling in a ball-mill, and comparison of the Y-yields (percent) from EoL-FL in rotary and planetary ball-mills. Source: Kanazawa Universityhave been the primary sources for recyclable REs.
A new approach for recovering these materials from EoL FLs is being advanced at Kanazawa University, Japan. REs are recovered from discarded lamps by means of chelator chemistry instead of the harsh acid extractants commonly applied to dissolve valuable materials. Chelators are organic compounds that bond to metals through electron donation and gently leach out REs from the solid mass of a spent phosphor.
Chelators used in combination with planetary ball-milling yielded a five order of magnitude increase in cerium, lanthanum and terbium recovery, and a two-order increase for yttrium or europium compared to processing without milling. Increasing the system temperature from 25° C to 135° C also doubled yttrium and europium recovery relative to that at room temperature.
As a result, the most economically important RE metals were leached out from spent lamps with recoveries of 53 to 84 percent documented as the most economically valuable REs leached out of EoL FLs.