Supermileage Car Coasts to the Finish Line
S. Himmelstein | June 26, 2017
The carburetor engine has served students in the Society of Automotive Engineers Club at Penn State Erie, The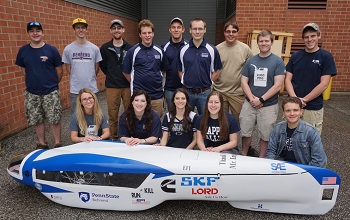 The team's vehicle traveled 2,418 miles on one gallon of gas. Image credit: Penn State BehrendBehrend College, well. The engine helped them secure two first-place finishes since 2012 in the International Supermileage Challenge, a competition that challenges teams to design vehicles that get the most mileage out of a single tank of high-octane gasoline.
The student designers recently swapped out the carburetor engine for a fuel-injection engine and finished second in this year's 38th annual competition. The revamped vehicle traveled 2,418 miles on one gallon of gas.
The engine is well-suited for the "burn and coast" method of driving that the team uses. At the start of the competition, the driver starts the engine, accelerates for a bit and then turns the engine off to coast the remainder of the course. It's an intentional attempt at fuel conservation.
The vehicle measures around eight-feet long and less than two-feet high. Its lightweight, aerodynamic design contributes to the fuel efficiency it delivers.
In the future, the team's goal is to travel 3,000 miles on a single gallon of gas. This year's first-place team, Université Laval, which also uses a fuel-injection engine, finished with 4,113 miles.