Under Pressure: Engineers Face Larger Workloads, Tighter Deadlines
Peter Brown | August 03, 2018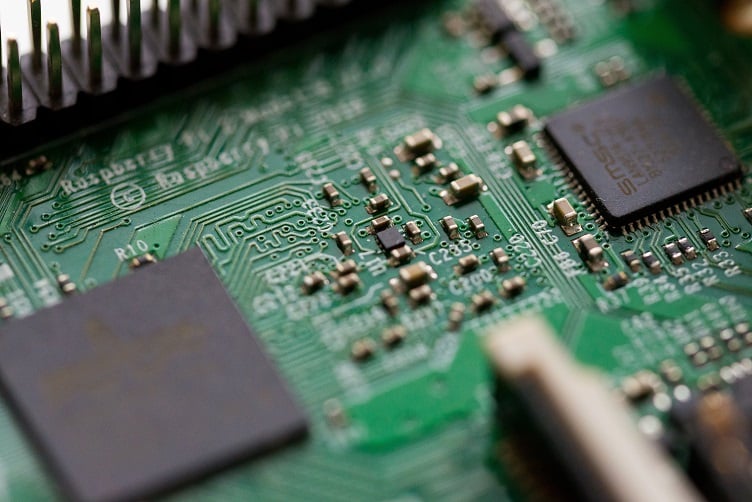 Engineers surveyed said they had to do more with less due to changing work environment. Source: Unsplash
Technology is changing at a rapid pace. Growth in the areas of artificial intelligence, machine learning, robotics, nanotechnology, autonomous technology, the internet of things (IoT) and more are requiring companies to keep pace or risk being left behind.
This changing work environment is putting the squeeze on engineering talent as these workers are being asked to do more with less while under tight deadlines that risk the quality of the projects they are working on, according to the "2018 Pulse of Engineering Survey" from IEEE Globalspec Media Solutions.
Among the engineers that were asked in the survey, 55% of engineers said that the pace of engineering was accelerating and engineers, on average, were working on four projects simultaneously. Of those surveyed, 73% said this increased workload was happening with either the same amount of engineers at a company or even a decrease in workers.
The majority of engineers said that designs are not just becoming more sophisticated but that their design cycles are shrinking while concurrently time-to-market pressures are increasing. As a result, in order to help ease some of the pressure from internal engineers, 44% of respondents said companies are turning to increased design involvement from external partners and vendors.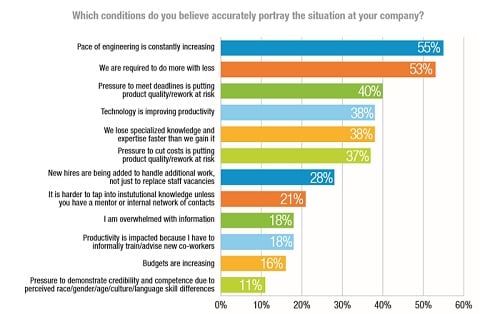 Pressure to keep pace with changing technology may be impacting quality, engineers believe. Source: IEEE GlobalspecCompetition isn't helping these engineers either, as 52% of respondents said the number of competitors across all markets is growing, with 66% believing the competitive landscape is global and competes every day, all day.
The changing engineering environment due to increased technological advances is creating additional challenges, as 47% of engineers said new technologies and companies disrupt their products or markets faster, while 54% said that their companies' own technologies were relevant for a shorter period of time.
Get Information
One of the main tools for engineers to better perform and complete projects is seeking information from technical documentation, schematics, software and development tools, product specifications and datasheets. Engineers frequently use books, online training courses, white papers, webinars and seeking colleague advice in order to garner the information they need, the survey said.
Few engineers reported as feeling overwhelmed by the amount of information and instead preferred more over less when having to complete a specific project. This not only applied to the quality of the information but also the level of technicality and detail as well.
Millennial Impact
Interestingly, while the majority of engineers agree that the pace of engineering is increasing, millennials are less likely than seasoned engineers to agree they are required to do more with less and that pressure to cut costs is putting the quality of the projects at risk. Millennials also said in the survey they believe budgets are increasing, pointing to an increased sense of positivity and optimism among this age group.
The survey found that millennial engineers tend to work for smaller companies with smaller design teams and are not as concerned that their companies are losing senior expertise faster than they are gaining it. Millennials are driven more by learning opportunity, growth potential and good work/life balance rather than driven by compensation.
Bigger Teams, More Resources
Unlike other industries, those working in the electronics segment tend to have a greater number of engineers, bigger design teams and have more participants from other countries. Hiring of engineers tends to be happening in larger supply in the electronics industry and electronic engineers are more likely to use software and development tools, coding resources and design kits to complete projects.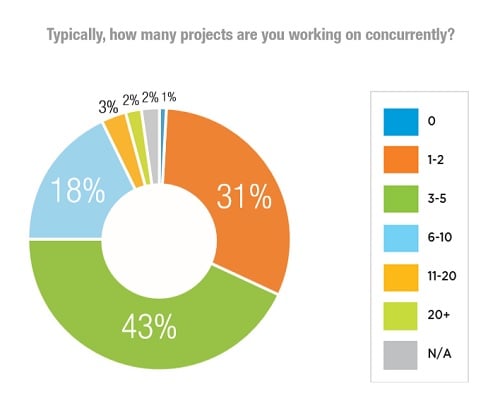 On average, engineers report working on four projects simultaneously. Source: IEEE GlobalspecEngineers surveyed from the electronics field said if they were to leave their current job, they would need to learn how to implement artificial intelligence and learn new and emerging standards for their next position.
The IEEE Globalspec Media Solutions survey found that unlike in past years, engineers are changing jobs for reasons such as retirement, promotion and better opportunities to advance and increase compensation packages.
The survey of 2,236 respondents was taken from a pool of both Engineering360.com registered users and IEEE Spectrum subscribers. Of the respondents, 23% work at companies that employ ten or fewer engineers, 36% for companies employing between 11 to 250 engineers and 41% work in companies with more than 250 engineers.
The respondents span industries such as aerospace and defense, technical design services, communications, utilities or energy and semiconductors or electronics.
To read the full survey, click here.