Hydro Power Dam Collapse Leaves Thousands Homeless
David Wagman | July 24, 2018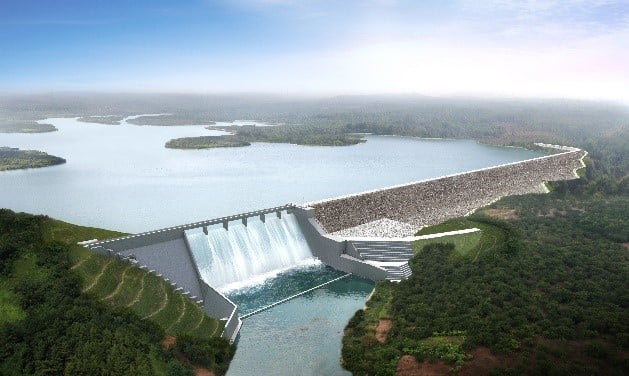 Artist's view of part of the hydroelectric project in Laos. Source: PNPC
A hydroelectric power dam under construction in southeast Laos collapsed, sending flood waters through at least six villages.
Early news reports from the BBC said that at least 20 people died and many more were missing. More than 6,000 people were made homeless in the July 24 accident.
The dam that collapsed is part of the Xe-Pian Xe-Namnoy hydroelectric power project, which involves Laotian, Thai and South Korean firms.
Reports say that a dam, known as "Saddle Dam D", collapsed after heavy rain caused a high volume of water to flow into the project's reservoir. The dam that failed is 8 meters wide, 770 meters long and 16 meters high, according to Ratchaburi Electricity Generating Holding, a main stakeholder in the project. The construction project was about 90 percent complete and was slated to enter service in 2019.
The 410 megawatt hydroelectric project includes a series of dams, reservoirs and water transfer conduits to contain and divert the waters of the Houay Makchanh, the Xe-Namnoy and Xe-Pian rivers in southern Laos.
The Xe-Pian Xe-Namnoy Power Co., Ltd. (PNPC) is a joint investment venture established in 2012 by the four major shareholders: SK Engineering and Construction of the Republic of Korea, Korea Western Power of the Republic of Korea, Ratchaburi Electricity Generating Holding PCL of Thailand and Lao Holding State Enterprise of Laos.
The project is expected to generate 1,879 Gwh per year. Around 90 percent of the electric power would be exported to Thailand under a Power Purchase Agreement (PPA) between the Electricity Generating Authority of Thailand and the PNPC. The remaining 10 percent would be sold to the local grid under a PPA between the PNPC and the Electricite du Laos.
As of 2017, Laos had 46 operational hydroelectric power plants and 54 more under construction.