The Chemistry of Whiter Teeth
Marie Donlon | July 20, 2018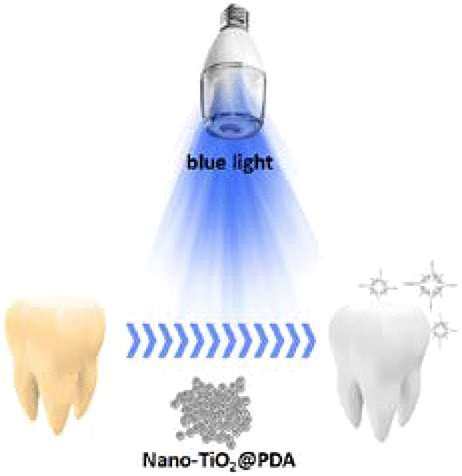 Source: American Chemical SocietyAchieving perfectly white teeth comes with a significant price tag in terms of tooth health. Over-the-counter solutions or bleaching sessions at the dentist can harm teeth. Now, a team of researchers believes they have created a better, less harmful technique for whitening teeth.
Often, after years of consuming foods and beverages that have discolored their teeth, people opt to treat the problem with over-the-counter solutions or trips to the dentist. The number one ingredient to achieve that whiter smile is hydrogen peroxide and it works by stealing electrons from the pigment molecules, causing tooth discoloration — a process that is expedited when the teeth are exposed to blue light. Unfortunately, hydrogen peroxide, in high concentrations, can wear down the enamel of teeth, thereby causing sensitivity or worse, cell death.
As such, a team led by Xiaolei Wang and Lan Liao wanted to determine if blue-light–activated compound, different from the kind used at the dentist, presented a safer, but equally effective solution. The team modified titanium dioxide nanoparticles with polydopamine (nano-TiO2@PDA), coated the surface of teeth with the mixture and then irradiated them with blue light.
What they found four hours after treatment was that the results were similar to those using the hydrogen-peroxide-based agents but without the enamel damage experienced with hydrogen peroxide. Additionally, the nano-TiO2@PDA therapy also demonstrated antibacterial activity against certain other bacteria.
The study is published in the journal ACS Biomaterials Science and Engineering.