Device Detects Virus-infected Mosquitoes
S. Himmelstein | July 16, 2018
In addition to being unpleasant nuisances, mosquitoes can spread diseases such as dengue and zika. A spinoff from Purdue University seeks to give public health professionals and mosquito eradication programs an early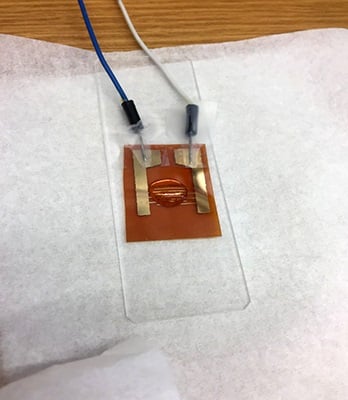 When DNA or RNA of a virus-infected mosquito binds to the surface, it changes the surface resistance on the electrode. Source: Purdue Universitywarning system in the form of a sensor to more effectively direct their resources.
SMK Diagnostics has developed a sensor that can identify the presence of infectious viruses within mosquitoes and name specifically which viruses they are. The system consists of an electrode covered with a material to which only certain virus DNA or RNA can adhere. The surface resistance changes in the presence of material from a virus-infected mosquito. Unlike other diagnostic methods that may require days or weeks to generate results, the new technique needs only about an hour.
The sensors could be placed where mosquitoes are prevalent and provide the information needed by health agencies to take action.
SMK Diagnostics is looking for funding to build a prototype and move the technology forward.