Researchers prove that graphene wards off, prevents bites from mosquitoes
Marie Donlon | August 29, 2019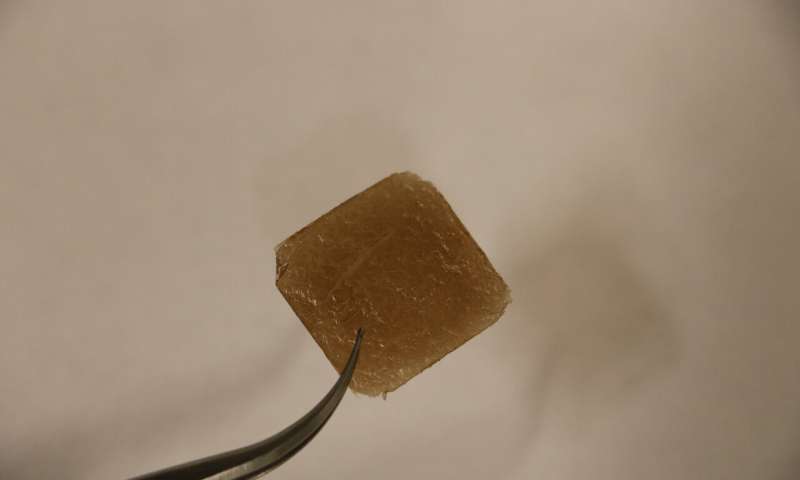 A new study shows that graphene oxide films can prevent mosquito bites by blocking the chemical cues mosquitoes use to sense that a blood meal is near. The findings raise the possibility that graphene-lined clothing might be a chemical-free mosquito bite deterrent. Source: Hurt Lab/Brown University
Researchers from Brown University have found an unexpected use for the nanomaterial graphene: repelling mosquitoes.
The team of researchers discovered that multilayer graphene, which is an extremely thin but strong nanomaterial, behaves as a barrier against biting mosquitoes. Likewise, additional experiments indicated that graphene also blocked the chemical signals mosquitoes rely on to detect that a blood meal is nearby.
The team is exploring whether graphene-lined clothing might be an effective mosquito barrier, acting as a non-chemical solution to mosquitoes, which are significant vectors for disease.
To demonstrate graphene's effectiveness, volunteers placed their arms in a mosquito-filled enclosure, with some arm sections exposed, cloaked in cheesecloth or covered in graphene oxide (GO) cloaked in cheesecloth. According to researchers, it was immediately evident that graphene discouraged biting, as the sections of skin cloaked in the dry GO films did not receive any bites at all, whereas other arm sections were heavily bitten. Likewise, the researchers determined that the presence of graphene entirely changed the behavior of the mosquitoes, reporting that the mosquitoes would not even land on the sections of arm with the GO films.
"We had assumed that graphene would be a physical barrier to biting, through puncture resistance, but when we saw these experiments we started to think that it was also a chemical barrier that prevents mosquitoes from sensing that someone is there," said Cintia Castilho, a Ph.D. student at Brown and the study's lead author.
To support the chemical barrier claim, researchers applied a swab of human sweat to the exterior of the graphene barrier. On the outside of the GO film, sweat attracted the mosquitoes in the same way as the bare skin had.
Additionally, the research team determined that GO film could offer puncture resistance in some instances. To demonstrate, the team used a tiny needle as a stand-in for the mosquito's proboscis along with computer simulations of the bite process, and concluded that mosquitoes likely could not produce force enough to penetrate GO film.
Yet, that finding only applied to dry GO film. If saturated with water, the simulations suggested that GO film would be vulnerable to penetration. Additional experiments revealed that mosquitoes were able to bite through wet GO film. A different type of GO — reduced oxygen content rGO — offered a bite barrier when the material was both wet and dry.
Going forward, the team will attempt to stabilize the GO so that it is not vulnerable when wet. Unlike rGO, GO is breathable, which means that wearers could sweat through it. The team would prefer to stabilize the GO to give the full benefits of breathability and bite protection.
The research appears in the journal Proceedings of the National Academy of Sciences.