Hobbyist Loses Drone Rule Challenge
David Wagman | July 10, 2018
The U.S. Court of Appeals for the D.C. Circuit rejected arguments by a drone hobbyist who won a 2017 ruling against the Federal Aviation Administration's system for registering unmanned aircraft.
The Los Angeles Times newspaper says that although the three-judge panel ruled on July 6 that Congress intended to exempt some hobbyists from regulation — provided the hobbyists were not creating a safety hazard — they denied the hobbyist's request to invalidate the rules.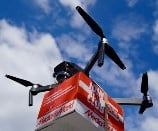 The ruling court help companies that want to use drones for package delivery."Because the rule is within the agency's statutory authority and is neither arbitrary nor capricious, the petition for review is denied," wrote Judge Merrick Garland, who wrote the opinion for the appeals court.
Congress in 2012 passed a law giving the FAA authority over drones. It also said that certain model aircraft flown by hobbyists who already followed safety rules by a "nationwide community-based organization" were exempt.
The newspaper says that led some to argue that the FAA could not set rules over drone flights by hobbyists. In 2017, the hobbyist used the 2012 law to argue that the FAA's drone registration system was not legal.
The appellate court ruling may benefit companies such as Google parent Alphabet Inc.'s Project Wing and Amazon.com Inc.'s Prime Air. Both have urged regulators and lawmakers to impose additional standards on hobbyist drones. Such requirements are needed to ensure that it is safe to operate autonomous delivery systems they are developing, the companies say.
The FAA plans to release proposed new regulations later in 2018 to begin allowing drone flights over crowds and will require most or all drones to begin identifying themselves with radio beacons. The identification beacons are needed to satisfy U.S. security and law enforcement agencies, which fear that drones will be used by criminals or terrorists.
Fear of Flying?
In June, a report said that the "fear of making a mistake" was driving a risk culture at the FAA that is slowing the deployment of drone aircraft in U.S. airspace.
The agency's focus is often "solely on what might go wrong," and the dialogue needs to shift toward "balancing risks with potential advantages of drone operations, developing a holistic picture on overall risk and benefit." The findings were part of a report by the National Academies of Sciences, Engineering and Medicine.
The report said that drone operations in the United States that have the potential of providing safety benefits have been prevented from entering the airspace because of FAA's application of safety risk assessment techniques, developed over many years for manned aviation, which require evidence of a near-zero tolerance for risk.