Welcome to this week's edition of the Engineering360 news brief.
Apple Fix for Locating 911 Calls
Coming this September, according to reports, Apple Next operating system will automatically be capable of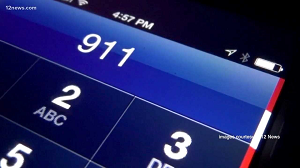 Source: 12 Newssending faster and more reliable data that identifies the exact location of emergency calls to over 6,000 emergency response centers throughout the U.S. An estimated 80 percent of roughly 240 million emergency calls in the U.S. this year will come from mobile phones, most of which are capable of precisely tracking where their users are. Apple's upcoming 911 feature relies on technology from RapidSOS, a New York startup. Hopefully this will save a lot of lives.
Environmentally Friendly Explosive
Scientists at Los Alamos National Laboratory and the U.S. Army Research Laboratory in Aberdeen, Maryland, have found a less toxic explosive material as a potential replacement for TNT in various munitions. TNT has been in use as a munitions explosive since 1902, but the Environmental Protection Agency lists it as a possible carcinogen and exposure to it is a possible cause of blood disorders, according to the Centers for Disease Control.
"The Army and the Laboratory, through the Joint Munitions Program, have been looking for a TNT replacement," said David Chavez, an explosives chemist at Los Alamos.
Chavez, along with Jesse Sabatini and colleagues at Aberdeen, have come up with bis-oxadiazole, a nitrogen-containing compound. This 24-atom molecule has high amounts of nitrogen and performance 50 percent greater than TNT.
More Delivery Drones
The number of drones capable of making food and other deliveries is expected to increase in the skies over Reykjavik, Iceland, cementing the city as one of Europe's epicenters for drone activity. As part of a trial between a company called Aha and the Israeli company Flytrex, the number of drones occupying the Reykjavik skies has been steadily increasing for two years. With permission to fly 13 routes throughout Reykjavik, Aha drones will have delivery access to roughly half of the city, capable of carrying with them a maximum cargo weight of 6 lb., 9 oz. (3 kg) each.
Now, remember to check out Engineering360 and Electronics360 for more news and information like this – plus engineering reference guides, product spec sheets and videos of interest.