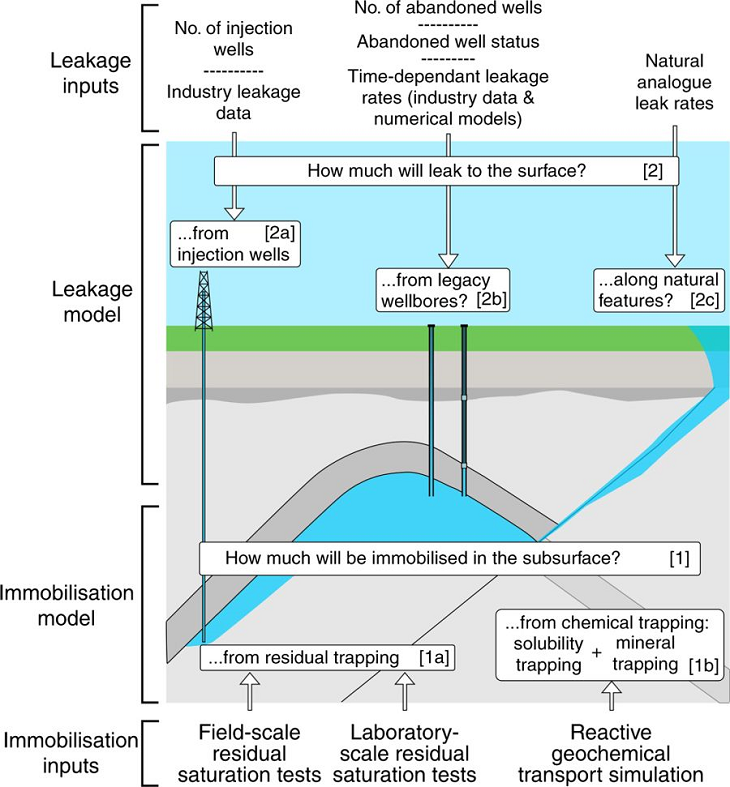 The CO2 immobilization model [1] combines two sub-models: [1a] residual trapping, and [1b] chemical trapping (defined as a combination of solubility and mineral trapping). The CO2 leakage model [2] combines three sub-models: [2a] leakage through active (injection) wells, [2b] abandoned wells and [2c] leakage via natural pathways. Source: SCCSCaptured carbon dioxide can be stored safely for thousands of years by injecting the liquefied gas deep underground into the microscopic pore spaces of common rocks, according to a new report from Scottish Carbon Capture & Storage (SCCS).
Researchers from SCCS's partner institutes, the University of Aberdeen and the University of Edinburgh, compiled a worldwide database of information from natural carbon dioxide and methane accumulations and hydrocarbon industry experience. Data covered engineered gas storage, decades of borehole injection activities and laboratory experiments.
Computer simulations were used to combine all these factors and model storage of carbon dioxide for the next 10,000 years. Previous efforts did not fully consider the natural trapping of carbon dioxide in rock as microscopic bubbles, or the dissolution of carbon dioxide into salty water contained in the rocks.
Results show that, realistically, well-regulated storage in regions with moderate well densities has a 50 percent probability that leakage remains below 0.0008 percent annually, with over 98 percent of the injected carbon dioxide retained in the subsurface over 10,000 years.
The research is published in Nature Communications.