Researchers from MIT, Columbia University and Raytheon BBN Technologies have created a new bolometer that doesn't require low temperatures for operation, a revolutionary development for electromagnetic radiation measuring.
Bolometers are devices that monitor and measure electromagnetic radiation by heating and absorbing materials. They are used by individuals as varied as astronomers and homeowners. Typically, bolometers have a limited bandwidth and have to operate at low temperatures.
The new system can operate at any temperature. Traditional bolometer devices only work at low temperatures; they do not work at room temperature or warmer environments. The new bolometer still works in low temperatures, but it can also be used as a thermal sensor in buildings and other areas that don't have specialized cooling.
Current bolometers use some kind of metal to absorb the radiation in an area and then measure the temperature rise caused by the radiation. The new bolometer uses a small piece of graphene to measure the heating of electrons in an area as well as how the electrons move within the graphene due to the conditions in an area. The graphene is combined with a photonic nanocavity, which amplifies the absorption of radiation in the device and area.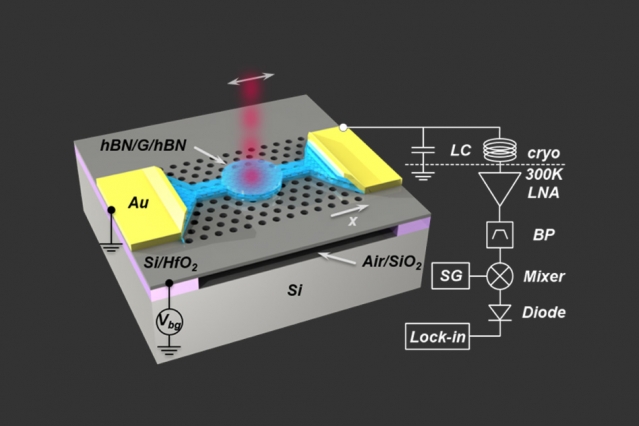 Schematic illustration of the experimental setup. Source: MIT News
The new bolometer is ultra-fast and highly sensitive, and is also inexpensive It is opening new doors for observations of long-wavelength emissions, heat sensors for buildings, quantum sensing and information processing devices. The device is based on the heating of electrons on a 2D piece of graphene. This is the first time that a single device has high sensitivity and high bandwidth.
In lab testing, the new bolometer was proven to measure the total energy carried out by photons of incoming electromagnetic radiation, including visible light, radio waves, microwaves and more.
"Most bolometers rely on the vibrations of atoms in a piece of material, which tends to make their response slow," says recent MIT postdoc Dmitri Efetov. "Unlike a traditional bolometer, the heated body here is simply the electron gas, which has a very low heat capacity, meaning that even a small energy input due to absorbed photons causes a large temperature swing."
This creates a very accurate energy measurement. Graphene-based bolometers have been created in the past, but none of them have been successful. The new graphene bolometer addresses these issues, including efficient absorption with a nanocavity and impedance-matched temperature readout.
The new system could fill in some of the missing wavelength bands that have not been observed before by any bolometer system.
The paper on this research was published in Nature Nanotechnology.