The joint venture, which will build a 2.25-mile-long automated people mover at Los Angeles International Airport, said that it reached financial agreements to design, build, finance, operate and maintain the project.
The development team includes Fluor, ACS Infrastructure Development, Balfour Beatty, Bombardier Transportation, Dragados USA, Flatiron and Hochtief PPP Solutions. The entire 30-year life cycle of the project will be delivered under a $4.9 billion design-build-finance-operate-maintain contract.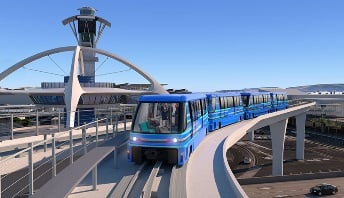 Artist's concept of a driverless train at the airport's inconic terminal. Credit: LAWAThe financing includes approximately $1.2 billion in private activity bonds, $263 million in bank debt and equity from the partners. The contract includes milestone payments for design and construction progress, availability payments for capital repayment and availability payments for operating and maintaining the automated people mover.
Fluor is the managing partner of the design-build joint venture team, LINXS Constructors, comprised of Fluor, Balfour Beatty, Dragados and Flatiron.
Following construction, LINXS Operators, comprising Fluor, ACS Infrastructure Development, Bombardier and Hochtief, will provide 25 years of operations and maintenance services.
In April, the Los Angeles City Council voted to approve the 30-year, $4.9 billion contract, the largest contract awarded in the city's history.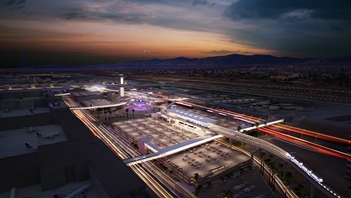 Construction work on the 2.25-mile-long system could begin in 2019. Credit: FluorPre-construction activities — such as utility relocations, geotechnical investigations and surveying — will begin in the second quarter of 2018. Construction of the guideway — the elevated track along which the people mover will run — will start in in mid-2019. Late 2019 will see construction begin on the six stations. The first APM car is expected to be delivered in late 2020. Major construction will be complete in mid-2022, when testing will begin for several months.
The people mover will have nine trains, each with four cars. Each car will carry up to 50 passengers and their luggage, with a total of 200 per train. Train speed will top out at 47 mph. Trains will be available at each station every two minutes with a total of 10 minutes travel time end-to-end.
LAX ranks as one of the five busiest airport both in the U.S. and globally, handling almost 85 million passengers in 2017.