Watch: Blubber-Inspired Wetsuit, People Mover for LAX, Reducing Diesel Emissions
June 26, 2018
Welcome to this week's Engineering360 news brief.
Blubber-Inspired Wetsuit
MIT researchers have developed a new artificial blubber coating wetsuit for rescue teams and Navy SEALs.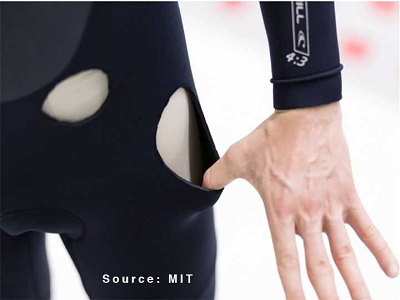 Source: MITThe new wetsuits could triple the amount of time a wearer could last in freezing water conditions. The blubber-like material insulates the person in the suit, while also using pockets of trapped gas. Neoprene, the standard material to create wetsuits, is a mix of synthetic rubber that is processed into foam with a similar cell structure to styrofoam. In the cell structure, there are pockets of air, similar to the pockets of air that otters and penguins use. The new method replaces the pockets of air in neoprene with pockets of xenon or krypton. These heavy inert gases increase the insulation of wetsuits. The wetsuit significantly improved survivability in water colder than 10 degrees Celsius. The suit allows divers to last in the water for two to three hours, almost triple the amount of time as current wetsuits.
People Mover For LAX
The joint venture, which will build a 2.25-miles-long automated people mover at Los Angeles International Airport, said that it reached financial agreements to design, build, finance, operate and maintain the project. The development team includes Fluor, ACS Infrastructure Development, Balfour Beatty, Bombardier Transportation, Dragados USA, Flatiron and Hochtief PPP Solutions. The entire 30-year life cycle of the project will be delivered under a $4.9 billion design-build-finance-operate-maintain contract. The people mover will have nine trains, each with four cars. Each car will carry up to 50 passengers and their luggage, with a total of 200 per train. Train speed will top out at 47 mph. Trains will be available at each station every two minutes with a total of 10 minutes travel time end-to-end. LAX ranks as one of the five busiest airports both in the U.S. and globally, handling almost 85 million passengers in 2017.
Reducing Diesel Emissions
Diesel engines are energy-efficient machines but are also major emitters of nitrogen oxides. Thanks to Swedish researchers and the bombardier beetle, a cleaner way to use diesel fuel is under development. The defense mechanism activated by the beetle inspired researchers from Lund University and Swedish Biomimetics 3000 to design a new emission control system. When disturbed, the bombardier ejects a hot noxious chemical spray from the tip of its abdomen with a popping sound. This natural protective capability was mimicked in the production of a more efficient injector for emission control systems than currently installed in class Euro 6/VI vehicles. This injector improves the nitrogen oxides reduction efficiency of selective catalytic reduction systems, especially under cold engine running conditions. During testing, the injector design significantly reduced nitrogen oxides as well as ammonia emissions. The new technology is expected to be in production within the next two years.
Now, remember to check out Engineering360 and Electronics360 for more news and information like this – plus engineering reference guides, product spec sheets and videos of interest.