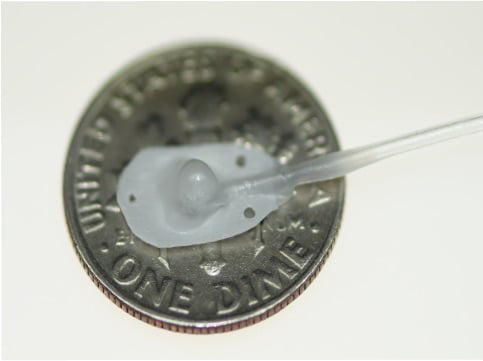 Therepi's reservoir would attach directly to the damaged heart tissue. Here, it is connected to a self-sealing subcutaneous port and placed on a dime for size reference. Source: Nature Biomedical Engineering, Whyte et al.A new device for heart attack patients is designed to mitigate the cardiac events that can lead from a damaged heart to heart failure — by attaching directly to the heart tissue itself.
Heart attacks are caused by a blockage of blood flow into the heart muscle, which leads to damage and scar tissue. In response to scarring, the heart will remodel to compensate — a process that can often end in ventricular or valve failure. To address this danger, drug therapies can be targeted at the heart. But two of the systems most commonly used for delivering such therapies are either inefficient or invasive.
In one method, drugs are delivered systemically rather than being administered directly to the site of the damage. As a result, the volume used has to be limited to avoid toxic side effects, and often only a small amount actually reaches the damaged heart tissue. The alternative method involves multiple invasive surgeries to directly inject therapies into the heart muscle.
By contrast, the new device, called Therepi, administers localized, non-invasive therapies as many times as needed. It enables delivery of therapy doses from a port under a patient's skin. The port is connected to a refill line that feeds into a reservoir attached to damaged heart tissue. It can accept injections either by the patient or a healthcare professional. Moreover, the reservoir for the device can be implanted in just one surgical procedure.
The material from which the reservoir is constructed is key to the viability of the device. "We needed it to act like a sponge, so it could retain the therapy exactly where you need it," said William Whyte, a Ph.D. candidate at Trinity College Dublin and co-first author of a study detailing the device's function. "That is difficult to accomplish since the heart is constantly squeezing and moving," he added.
The sponge-like quality was achieved by using a gelatin-based polymer with a half-spherical shape. It attaches to the damaged tissue with a flat bottom that consists of a semi-permeable membrane that can be adjusted to allow for the desired quantity of drugs to pass directly into the heart.
In addition, the reservoir provides a unique opportunity as a cell factory for stem cell therapies. Those cells can be kept within the reservoir, where they will produce paracrine factors to promote healing.
The capabilities of the device go beyond treating heart disease. It can also be used as a tool to identify the exact dosage appropriate for a host of conditions. "We are hoping to use the device itself as a research tool to learn more about the optimal drug loading regime," explained co-first author Ellen Roche, an assistant professor at MIT's mechanical engineering department and Institute for Medical Engineering and Science.
"The device is really a platform that can be tailored to different organ systems and different conditions," added Claudia Varela, a Ph.D. student in the Harvard-MIT Division of Health Sciences and Technology. "It's just a great example of how intersectional research looking at both devices and biological therapies can help us come up with new ways to treat disease."
The study on the device appears in the journal Nature Biomedical Engineering.