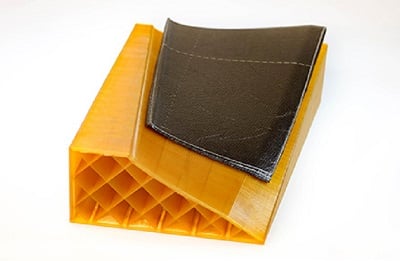 Additive manufacturing for composite tooling. Source: Stratasys, Ltd.
There is a common misconception that certain methods of fabricating a plastic part are superior to all other methods. Although it is known that molded plastic parts generally require secondary processing to remove flashings that are non-existent in a machined part, this may or may not affect the quality of the finished part and there truly is a place for each method as they each carry their own advantages and disadvantages.
Molded Thermoplastics
The largest disadvantage to molding plastic parts comes with the overhead experienced with mold development. Before production quantities can be produced, a mold is produced that takes into account the void fill volume and the flowability of the material. These aspects can affect part quality as well as the ability to produce intricate details.
Abnormally thick-walled parts also pose design challenges as the gate-to-gate cycle time is largely dependent on cooling rates that are a function of wall thickness. The same goes for material compatibility as each material has its own limitations.
Molded thermoplastics offer significant cost reductions when performing high-volume production runs. The general rule of thumb for injection molding is that if production quantities should exceed 5,000 parts, injection molding is the preferred method for part production. This is not an absolute threshold, however, as unit pricing is also affected by other factors including tooling costs, production rates and material costs.
Machined Plastic Parts
Plastic machining offers several distinct advantages including greater design flexibility, closer tolerances, improved surface quality, lower internal stresses and reduced lead times. Some of these inherent advantages can be achieved with molded plastic parts through the use of secondary processes including improved surface quality, while others cannot.
Other advantages to machined plastic parts include the greatest material diversity, which may only be limited by certain machining methods that may include CNC machining, EDM machining or laser machining. Some of these methods may affect internal stresses near the machined area, but, in general, machined products are the ideal alternative when part strength, residual stress and physical performance are critical aspects of the part design. The affected heat zone near the machined area may also be reduced or eliminated, although usually at a higher cost. The main disadvantages to machined plastic parts include extended lead times and higher unit pricing.
The Roll of Additive Manufacturing
Additive manufacturing (AM) has emerged as a preferred method for producing low to medium quantity production runs. It is used extensively in aerospace markets as it offers numerous benefits including shorter lead times and part count reductions through the ability to produce intricate details into a single-piece assembly. There is also a wide range of engineered AM materials that help engineers produce parts with comparable part strengths to machined or molded parts. Furthermore, material waste is minimalized and parts are produced on demand, however, it has yet to completely replace the role of machined or molded plastic parts, especially when material cost or inherent porosity is a limiting factor in the part design.
Preferred suppliers like Stratasys have also capitalized on these inherent qualities of AM to produce 3D-printed part tooling, dies, part fixtures and injection molds supporting the production of injected molded and machined thermoplastics.
In particular, 3D-printed injected molds are an ideal solution for limited run injection molds or in the design phase as they can be used to produce injection molded functional prototypes at a fraction of the cost and with a much shorter lead time. The 3D-printed molds allow for a shorter development cycle utilizing the same thermoplastics that will be used in the production part without sacrificing details or temperature or pressure tolerances.
Conclusion
The bottom line is that there is no replacement for injection molded plastic parts when performing high volume production runs. Especially when material compatibility, wall thickness and finished part quality is suitable for the intended application and in most cases surface quality is equal to that of a machined plastic part with only a minimal amount of secondary processing required. In that same vein, the lower overhead and superior quality of machine plastic parts will always be weighed against the cost to produce a functional mold, although additive manufacturing tooling breaks down the mold cost barrier bringing cost reductions to limited production runs and functional prototyping of injected molded thermoplastic parts.