Small businesses, now more than ever, seem to be making a mark on society, luring customers back with the promise of homemade designs and profits invested directly back into communities. So too is 3D printing technology, constantly growing with the times to adapt and cater to our every need, want and things we never knew we needed or wanted.
With that thought in mind, along with her experience and know-how, ZeBra Bras' Hannah Johnson was able to collaborate with 3D printing expert Ben Smith to design custom-fit undergarments for every shape and size. Johnson studied nuclear engineering at Rensselaer Polytechnic Institute (RPI) and worked as an engineer before establishing her innovative underwear company.
I had the pleasure of sitting down with Hannah in her studio a few weeks ago and discussing ZeBra Bras in detail.
3D printing has become increasingly popular over the past couple of years, broadening the horizons and our thinking of products that can be manufactured in this way. What sparked your interest in creating undergarments with this technology?
I actually work with Ben Smith, who operates the 3D printer and who sparked my interest in working with this technology. While I work on the CAD side of things, Ben produces the physical objects I've set into play. Overall, though, I think what drove me to this point was my frustration with store-bought bras in general from big-box manufacturers. They never fit right.
Did your time working at Knolls Atomic Laboratories or studying at RPI turn your attention towards 3D printing in any way?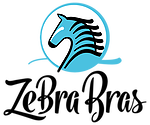 I suppose, looking back, my interest may have been sparked at RPI; I was aware of the technology (new at the time) from seeing and hearing my classmates toy with and talk about the printers. I thought to myself, "Huh, I'd be curious to try that one day."
If you would, please explain the 3D printing process for your bras.
Firstly, we gather accurate measurements using a structure sensor camera with open source free apps; after garnering the 360° focus, it creates 3D mesh out of triangles, much more accurate than measuring tape. From there, we use a CAD program called Fusion with the mesh. This creates a more usable and cleaner product for the customer; we also have a program that flattens the mesh out to make a sewing pattern and makes cups and underwire from 3D printing.
How long does styling and creating a bra take with the 3D printing technology?
The CAD process usually takes one to three hours depending on how the image came in, how much I have to do with it and if I'm dealing with underwire — that can get tricky. Printing takes one to two hours and sewing takes me anywhere from two to four hours. Generally, I can make three to five bras in a day.
What kinds of printers do you use?
Our plastic filament 3D printer is used for underwire and our resin printer is used to create the cups. We eventually will be working with filament printers that work with memory foam as well.
What did you major in at RPI and what was your role at Knolls?
I studied nuclear engineering at RPI and wrote the rules and scenarios for submarine nuclear reactors at Knolls.
What products made through additive manufacturing have excited or astonished you the most?
Just the fact that you can now basically customize anything in any way you like using 3D printing capabilities.
How do you believe ZeBra Bras' innovative approach to women's clothing affects social change or people's way of thinking about STEM/STEAM, technology in general, and/or the future of garments?
ZeBra Bras is unique for women in something that is normally a male-dominated field or hobby. This business is able to give women what they want while also showing them that there's more to 3D printing. Eventually I would like to expand into catering to gender non-conforming people and those who have had mastectomies. Everybody should be comfortable buying any clothes that they want to wear — I always try to find what's best for the individual through them directly.
Have you explored or will you explore other 3D printing endeavors?
I would really like to expand into making adjustable and customized dress forms in the future. It's difficult for people who make their own clothing with a cookie cutter dress form to create the right shape and size since we're all different shapes and sizes.
What is your advice to any woman looking to start their own business as an entrepreneur?
Save your money if you can! I was lucky enough while I was working at Knolls to be able to do that and finance rather than rely on banks for loans when the time came for ZeBra Bras to take wing. My penchant for saving has really helped me to succeed.