NIST Roadmap for Reducing Fire Hazards from Materials
S. Himmelstein | May 23, 2018
An improved strategy for reducing the thousands of deaths and injuries and billions of dollars in damage resulting from the more than a million fires annually in the U.S. is detailed in a new research roadmap published by the National Institute of Standards and Technology (NIST). The roadmap provides guidelines for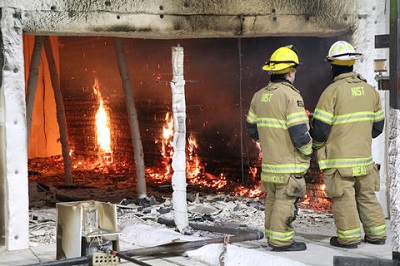 NIST firefighters survey the end of a controlled test to study the impact of fire on cross-laminated timber buildings. Source: NISTdeveloping science-based approaches to solving numerous fire risks for multiple materials, from lightweight automobile composites to cross-laminated timbers, and prioritizes the most critical and urgent fire hazards to which they can be applied, such as upholstered furniture.
The roadmap is the product of a recent NIST-led workshop attended by key national and international stakeholders from industry, government, academia and public laboratories.
Discussions focused on four areas in which fire hazards are major concerns: innovative construction materials such as the growing use of cross-laminated wood for tall buildings, advanced polymers and composites such as polyester fabrics used in furniture and lightweight composites used in automobile bodies, next-generation fire retardants, with an emphasis on those that suppress combustion without being health hazards and transportation and infrastructure vulnerabilities such as fire risks on trains.
For each of these areas, the experts considered the direction of current R&D and how it may impact future fire hazard reduction goals such as developing new materials, establishing product flammability standards and advancing computational tools. They also addressed emerging technologies and practices such as the increasing use of high-energy density (lithium-ion) batteries that have been in the news for flammability concerns.
The highest priority for future scientific studies and development projects in flammability was identified as cross-cutting research approaches that can work against multiple hazards across a wide range of materials and applications. These are:
•Real fire behaviors: to understand how the actual use of a product impacts its fire service-life (the fire resistance over the life of a product) and burning behavior
•Engineered fire-safe products: to enable the development of technologies that yield products compliant with flammability regulations for their entire lifetime
•Bench-scale and computational tools: to develop and use physical testing methods and computer modeling systems that accurately predict a material's real-life fire behavior
The document recommends that these research approaches be applied to the five most critical and urgent fire hazards as defined at the workshop: residential upholstered furniture, residential buildings in Wildland Urban Interface (defined by the U.S. Forest Service as an area where structures and other human development meet or intermingle with undeveloped wildland or vegetative fuels) communities, timber used for multistory buildings, passenger railway cars and insulation applied to the exteriors of high-rise buildings.