New Energy Storage Prototype Uses Seawater and Compressed Air
Peter Brown | May 21, 2018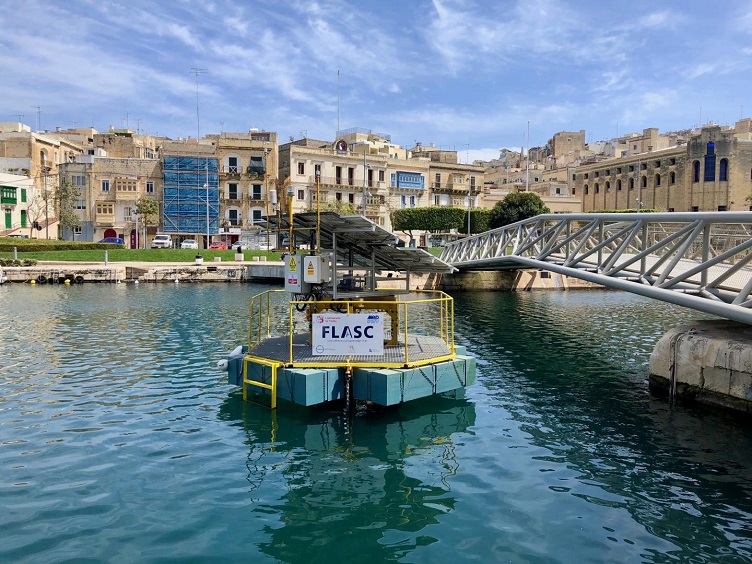 The FLASC energy storage prototype system. Source: University of Malta
A new renewable energy storage system is being tested by the University of Malta that uses pressurized seawater and compressed air to store energy generated by offshore renewable technologies such as large floating wind turbines, solar photovoltaics, wave and tidal energy systems.
The Floating Liquid-piston Accumulator using Seawater under Compression (FLASC) energy storage concept can also be used with applications for the liquefaction of natural gas, water injection in oil wells and water desalination.
The dual-vessel system consists of one pressure vessel mounted on a concrete gravity anchor that is placed on the seabed while a second larger, buoyant pressure vessel is secured to the gravity anchor by means of chains under tension. The tension leg design is a world first as far as offshore renewable energy storage is concerned, Malta researchers said.
The FLASC prototype the structure hosts a renewable energy charging system consisting of solar photovoltaic modules and other ancillaries. It was deployed in Dockyard Creek in Malta's Grand Harbor, where it will be monitored for performance and to project future full-scale implementation methodologies.
University of Malta researchers said the system lifetime is of the same order as that of contemporary wind turbines. The energy is not stored in batteries, yet it is capable of providing a stepped energy output and ramp regulation. Researchers said the storage system is competitive with lithium-ion batteries in terms of cost but without the reliance on hazardous chemicals or having the recycling costs of these types of batteries.
To learn more about the FLASC project, click here.