Innovative UV Detection Solution for Overhead Wire Faults on Electrical Railways Overhead Lines
May 04, 2018
Sponsored Content
Sponsored content
Electrically powered railways are a significant and vital component of the world's transportation infrastructure, moving people and freight in over 100 countries around the globe. These trains provide motive power for both shorter commuter systems as well as long-haul routes, and do so with energy efficiency, operational reliability high speeds and safety (Figure 1). They use a catenary wire to deliver power, based on a system developed in the late 1800s and still widely used today.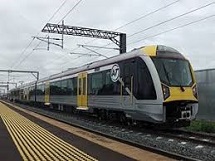 Figure 1. The electric railway locomotive has proven to be a reliable, energy-efficient and cost-effective source of propulsion for short- and long-haul passenger and freight railroads around the world. Source: OfilFor example, the well-known European high-speed passenger-rail system, with its network of over 50,000 km of electrified rail, exceeded 100 billion passenger-kilometers in 2016 (References 1 and 2); similar extensive networks are in place in China, Japan, Russia and other countries. Many of these trains operate at speeds above 200 km/hr. (some reach 300 km/hr.) using overhead wires energized to 15 kV and higher. Electrically powered railways save energy and are environmentally friendly compared to cars, trucks and buses for passenger and freight service.
Overhead Lines Need Inspection
Overhead elements of the catenary system include wires, insulators that hold them, arms and poles, and the overall system is effective and reliable, as proven by its extensive record in the field. Even so, there are potential issues with electrical and mechanical aspects of these installations. The system is subjected to natural wear, environmental factors such as temperature variations and contamination from its surroundings. Even newly installed systems are not immune to these issues, due to improper installation of wires or insulators and other such factors.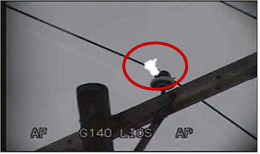 Figure 2. These two examples of detected corona discharge show its proximity to the wire/insulator junction. Source: OfilAn important diagnostic feature for detecting faults on the high-voltage electrical supply is corona partial discharge (PD), a localized dielectric breakdown of a small portion of a solid or fluid electrical-insulation system under high-voltage stress. This discharge is triggered by abnormal, unexpected local electrical conditions. These faults are mostly invisible to unaided eyes and thus overlooked unless the dedicated corona detection cameras are used (Figure 2).
Corona discharge has serious negative consequences, as its local ionization process generates ozone plus organic and inorganic acids. Composite insulators are oxidized by corona derivatives, then lose their insulation characteristics. Metallic elements of the system also get corroded, resulting in mechanical faults. Catenary wires break due to arcing at the points of the locomotive pantograph that deliver power off the overhead lines, leading to their collapse.
One of the best methods to diagnose insulation failure is partial discharge detection, so corona must be reliably detected and as soon as possible.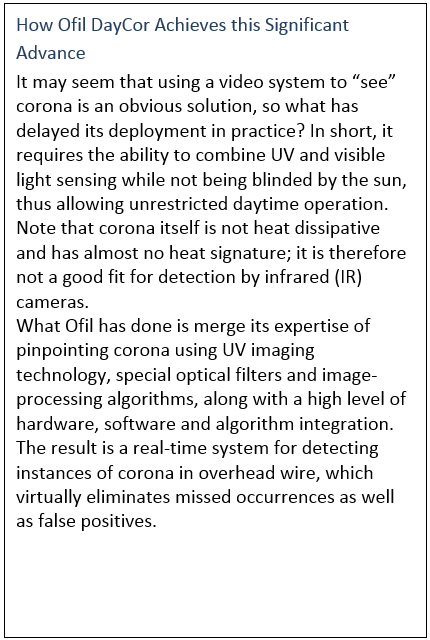 Railway authorizations, being aware of corona, practice manual inspections with Ofil's handheld corona cameras. These cameras feature compact sizes, high resolution and high sensitivity and are used to detect corona in railways substations. Such manual inspection is not efficient in the case of railways because of the high number of electrical elements and the long lines.
Advanced Technology Resolves the Problem
Fortunately, a sophisticated combination of technology advances is now available to address and solve the problem of detecting corona on overhead lines and will do so easily and reliably in real time. The DayCor name="_Hlk513123766">® RAIL bi-spectral imaging system from Ofil Systems is an automatic diagnostic tool that detects corona via a "solar-blind" camera, while the faulty sources themselves are detected via the visible channel (see sidebar).
The outputs of both channels are merged into one image to clearly show the pinpointed corona and its emitting source. The DayCor® Rail system is mounted on a testing rail wagon that observes the overhead lines, detecting and recording presences of corona and also flagging locations via GPS. The video clips are analyzed automatically and linked to a readable report generated at the end of each run.
The system hardware consists of a DayCor corona imager, a GPS receiver plus its external antenna, a powerful processor with removable SSD (solid-state disk) storage and a 19 in. monitor enclosed in a heavy-duty metal case (Figure 3). The system is tied together with Ofil's "CoronaCatch" reports-generating application software.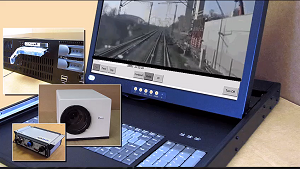 Figure 3. The DayCor Rail system uses a specialized bi-spectral imaging camera, processor, image-analysis algorithms and display, with the detected corona locations tagged by a GPS receiver. Source: Ofil
The DayCor Rail system is fully integrated and ruggedized, and includes the stabilization needed for compatibility with the rail environment (Figure 4). It features an outstanding ability to image ultraviolet (UV) wavelengths, providing pinpointed visual information from three views — visual only, UV only and combined UV and visible — in a single inspection pass. Operation is automatic and non-stop for detecting and recording corona as the train travels its route.

Figure 4. The DayCor Rail system seamlessly integrates the hardware and software elements for ease of installation, use and report generation. Source: Ofil
The integral high-speed data-processing function provides automatic report generation, with reports ready at the end of each ride (Figure 5) and optional customization. Finally, in addition to the carriage-mounted system, Ofil offers handheld cameras for inspecting off-route assets such as substations.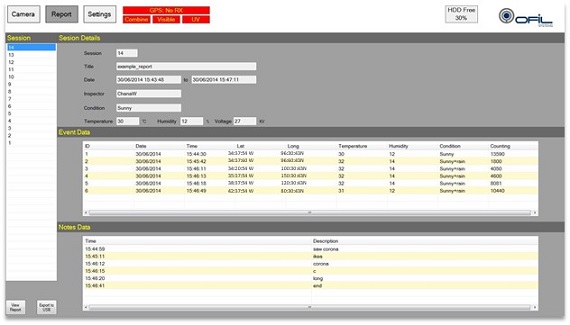 Figure 5. A typical report includes all critical corona-event parameters and is available in real time within need for data-collection analysis. Source: Ofil
Comprehensive Results Lead to Extensive User Benefits
With the Ofil DayCor® Rail system, electrical installations that suffer from corona and its consequences are fully checked, thus ensuring system health. The resultant performance and safety hazards are detected early and are clearly shown, with pinpointed information that can be used to direct operations and maintenance crews to potential faults.
As a further benefit, the information is current as it is processed and updated in real time; this eliminates the need for time-consuming back-office analysis. Accuracy is also enhanced, as the automatic operation eliminates human errors. Finally, it is the key to an efficient operation and maintenance system, as it improves and upgrades the strategy from a reactive model to a predictive and condition-based model.
References:
1. "High-speed rail in Europe"
2. "Eurostat: Railway passenger transport statistics — quarterly and annual data"