New Device is a Successful, Eco-Friendly Method to Create Hydrogen Fuel
Siobhan Treacy | May 03, 2018
A new device provides stable artificial photosynthesis and doubles the efficiency of harnessing sunlight to break apart fresh and salt water. This device creates hydrogen for fuel cells. Researchers hope that it could be used to turn carbon dioxide back into fuel.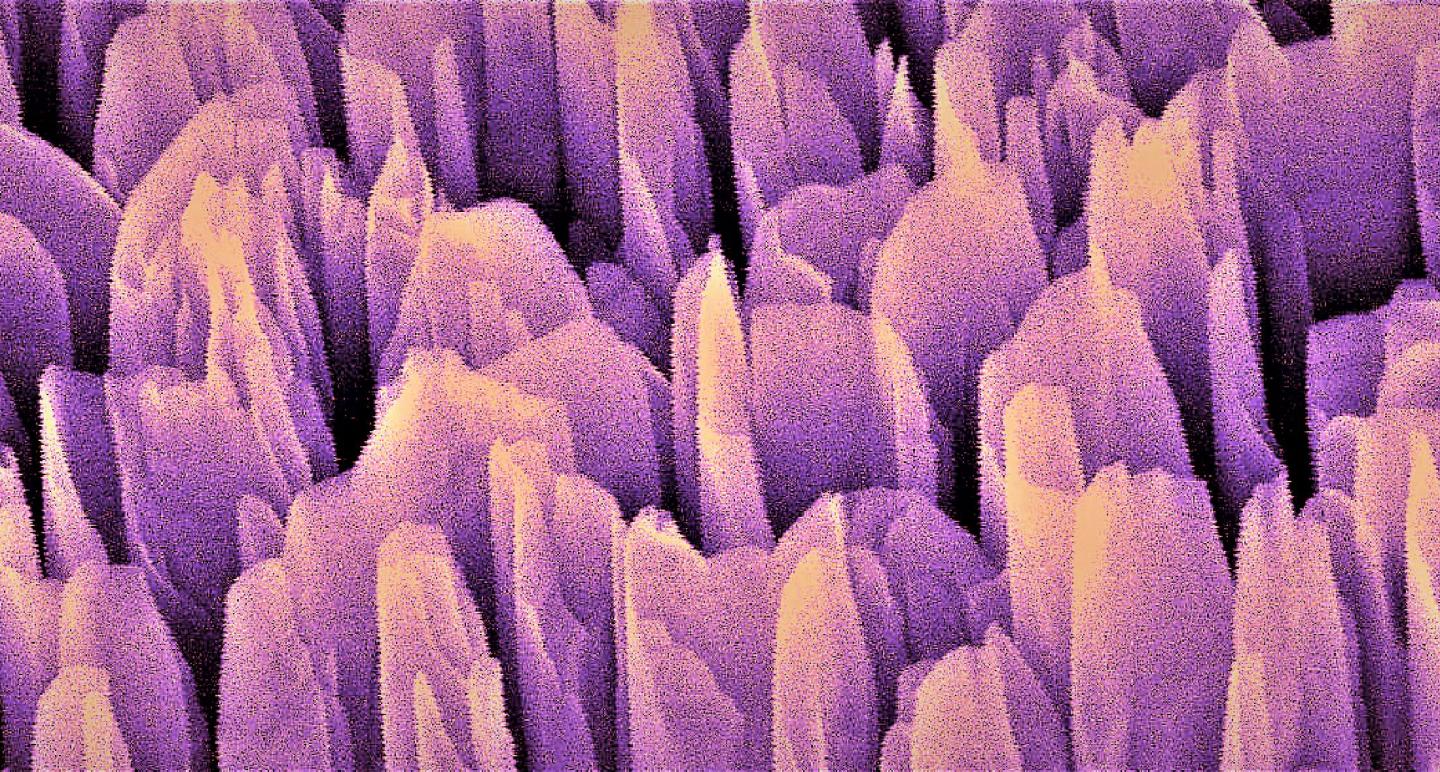 The colorized electron microscope image shows the gallium nitride towers of the artificial photosynthesis device at 52.5k magnification. These nanostructures rip water molecules apart into hydrogen and oxygen to produce clean hydrogen fuel. (Source: Faqrul A. Chowdhury, McGill University)
Hydrogen is the cleanest-burning fuel option currently developed. Water is the only emission that comes out of burning hydrogen. But the production of hydrogen is not so environmentally friendly. Conventional methods to create hydrogen require natural gas or electrical power, both of which are not great for the environment. The new method with this device is called solar water splitting and it only uses water and sunlight to create hydrogen.
"If we can directly store solar energy as a chemical fuel, like what nature does with photosynthesis, we could solve a fundamental challenge of renewable energy," said Zetian Mi, a professor of electrical and computer engineering at the University of Michigan who led the research while at McGill University in Montreal.
Farqurl Alam Chowdhury, electrical and computer engineering doctoral student at McGill, posted the problem on solar cells, which can't store electricity without expensive and short-lived batteries.
The new device is created out of widely available materials like solar cells, silicon, gallium nitride and other electronics. The device only needs sunlight and seawater to produce clean hydrogen fuel on a large-scale production level.
There have been attempts in the past to create direct solar water splitters but they have only made a little more than one percent stable solar-to-hydrogen efficiency. Other approaches to hydrogen production require expensive, unstable and inefficient materials and very acidic solutions. This is the first successful device of its type.
The team reached more than three percent solar-to-hydrogen efficiency with their new device. To achieve this, the team built a nano-sized cityscape of gallium nitride towers. These towers generated an electric field. The gallium nitride turns light into mobile electrons and positively charged vacancies called holes. The free charges split water molecules into hydrogen and oxygen.
"When this specially engineered wafer is hit by photons, the electric field helps separate photogenerated electrons and holes to drive the production of hydrogen and oxygen molecules efficiently," Chowdhury said.
The silicon backing of the chip is not a huge player in the device's function, but it could potentially be helpful in capturing light and funneling charge carriers and sending them to the gallium nitride towers.
"Although the three percent efficiency might seem low when put in the context of the 40 years of research on this process, it's actually a big breakthrough," Mi said. "Natural photosynthesis, depending on how you calculate it, has an efficiency of about 0.6 percent."
The team is aiming for 20 to 30 percent efficiency even though only five percent efficiency is required.
The paper on this new device was published in Nature Communications.