Hybrid Solar Cell Yields Both Hydrogen and Electricity
S. Himmelstein | October 31, 2018
The pursuit of artificial photosynthesis technology that uses solar radiation to produce hydrogen from water has been challenged by the need to include external power sources. Most devices are composed of stacks of light-absorbing layers, each capturing different wavelengths of the solar spectrum. Silicon solar cells efficiently capture solar radiation and generate electricity, but other materials included in an electrolysis system can't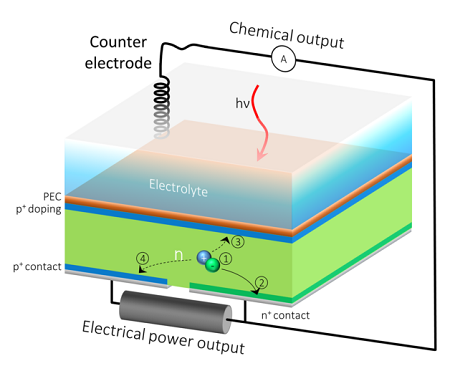 The HPEV cell's extra back outlet would allow the current to be split into two, so that one part of the current contributes to solar fuels generation and the rest can be extracted as electrical power. Source: LBNL/DOE Center for Artificial Photosynthesismatch silicon's performance, resulting in less current generated and less fuel produced.
A hybrid photoelectrochemical and voltaic (HPEV) cell designed at U.S. Department of Energy's Lawrence Berkeley National Laboratory (LBNL) eliminates this performance barrier by converting sunlight and water into both hydrogen fuel and electricity.
An additional electrical contact was added to the silicon component's back surface, forming a device with two contacts in the back instead of just one. The extra back outlet allows the current to be split into two, with one part contributing to solar fuels production and the remainder harvested as electricity. The integrated assembly drives water splitting with no external power source, while also producing electricity near the maximum power point of the backside photovoltaic junction.
Simulations determined that a conventional solar hydrogen generator based on silicon and bismuth vanadate can generate hydrogen at a solar to hydrogen efficiency of 6.8%. Since the HPEV cell exploits electrons not tapped for fuel production, its conversion efficiency reaches 20.2%. The same 6.8% of solar energy can be stored as hydrogen fuel and an additional 13.4% can be converted to electricity.