New Medium-voltage Switchgear Technology Improves Reliability and Safety
Shawn Martin | May 01, 2018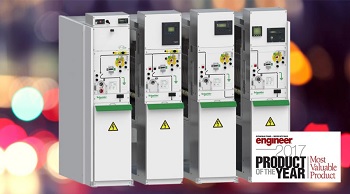 Source: Schneider ElectricShielded Solid Insulation Systems (2SIS) provide advanced protection and dependability. With all current carrying components encapsulated by a high dielectric insulating epoxy, the probability of internal arcing is minimized.
Schneider Electric's new medium-voltage (MV) switchgear, Premset, utilizes 2SIS to increase system reliability and operational efficiency. With the wider adaptation of MV buses, the next-generation switch gear received praise as it was designed with simplicity and functionality in mind and seen as a best-in-class technology.
The MV unit was named the Most Valuable Product in the Consulting-Specifying Engineer 2017 Product of the Year Award. It is optimized for application up to 15 kilovolts, handles up to 1,200 amperes of continuous current and is ideal for harsh and demanding environments.