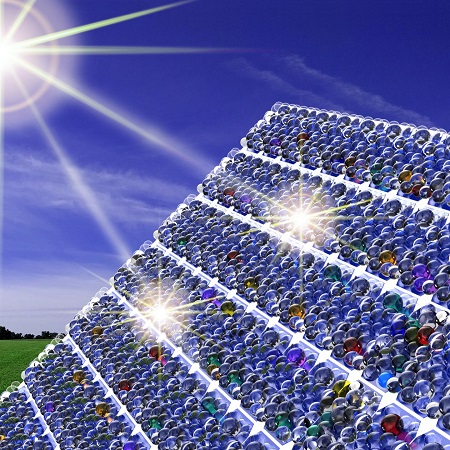 Illustration of the nanoresonator coating for solar cells, which consists of tiny glass beads.
Leveraging the principles of a whispering gallery — one of those domes that allows a faint sound to be heard around its entire circumference — a new nanoscale coating for solar cells has been developed that will allow absorption of about 20 percent more sunlight. The coating is made of thousands of tiny glass beads, each only about one-hundredth the width of a human hair; when hit by sunlight, the coating steers light waves around the nanoscale bead.
Essentially, it's an optical version of a whispering gallery. Although such structures began to be developed about a decade ago, it's only recently that researchers have begun to explore their use in solar-cell coatings.
The new coating, developed by researchers at the National Institute of Standards and Technology (NIST), opens a new path for developing low-cost, high-efficiency solar cells with abundant, renewable and environmentally-friendly materials. According to researcher Dongheon Ha, the study is the first to demonstrate the efficiency of the coatings using precision nanoscale measurements.
"Although calculations had suggested the coatings would enhance the solar cells, we could not prove this was the case until we had developed the nanoscale measurement technologies that were needed," said Ha.
In the team's experimental set up, a laser light source was used to excite individual nanoresonators in the coating; an underlying solar cell made of gallium arsenide was also employed to capture the light that eventually leaks out. Measurements indicated that the coated solar cells absorbed an average of 20 percent more visible light than uncoated cells, and also produced about 20 percent more current.
While previous coating methods involved dipping a semiconductor material into a tub of the nanoresonator solution, the team also devised a new droplet coating method — similar to what's done in a factory setting for coating applications — that is both quicker and less costly.
"This is an inexpensive process and is compatible with mass production," added Ha.
The research appears in a recent issue of Nanotechnology.