A Holistic Approach to Coating Services
July 10, 2017
Sponsored Content
Sponsored content
While many companies offer coating services, they do not achieve the tolerances, precision, uniformity and consistency available from MIRWEC. The answer lies in MIRWEC's holistic approach to coating.
Electronic coatings are ubiquitous. They span virtually every electronic device for consumer, military and industrial applications. There are also a wide variety of materials that can be used in coating, such as polymer, metal, paper or cloth substrates, aqueous or solvent-based solutions and more. They may provide electrical, optical, mechanical or protective benefits. Used in and out of clean rooms, they cover a broad range of coating widths, densities and tolerances.
A major challenge in obtaining the coating required, however, is that while coating service providers have extensive technical coating and chemistry expertise, they typically lack comprehensive coating machine/mechanical know-how and intensive customization capabilities. On the opposite side of this proverbial coin, coating machine manufacturers boast extensive coating machine/mechanical know-how and customization expertise, but lack technical and chemistry know how. At least, that was the norm, until now.
Coating Services at Unprecedented Tolerances and Scale
MIRWEC Coating, a wholly owned subsidiary of Yasui Seiki in Japan, has solid roots in both coating services and coating machines. With coating services centers in Bloomington, Ind., and Japan, MIRWEC specializes in providing unprecedented coating thinness and uniformity. Working with industries such as batteries, medical, optical displays, photovoltaics and 3D holograms, MIRWEC delivers coating tolerances of 2 percent and in certain applications even as low as 1 percent—something no other coating service can provide.
A concentration on coating services is the newest effort of MIRWEC, the leading manufacturer of coating machines for 40 years. The company owes its industry-leading coating results to the symbiotic relationship between its divisions and its customers. Since its inception, Yasui Seiki, the parent company, has developed one-of-a-kind coating machines to become the leading global coating machine manufacturer. MIRWEC relies on customer feedback and constant research and development, taking that knowledge and feedback to provide direct coating services and mechanical advancements in its operation of state-of-the-art coating facilities in Japan and the U.S.
MIRWEC understands the challenges of coating across a myriad of applications and provides tolerances that beat competitors globally. Taking a holistic approach to coating services, MIRWEC combines its expertise in chemistry, materials, application and machine harmony and function to deliver its leading precision coating services. An example of their success is seen in the fact that 95 percent of the smartphones sold in the U.S. contain at least one layer of coating created by MIRWEC.
The Technology and Machines Behind the Scenes
Two patented technologies are behind MIRWEC's coating success, MICROGRAVURE™ and Slot Die Coating.
MICROGRAVURE™ is used with many types of coating. The small diameter delivers a smaller contact area, enabling an exceptionally stable bead of solution critical for thin, uniform and glossy coating. Larger web-to-roller distance minimizes streaks, offering clean lines. The elimination of a backing roll prevents creasing, reduces the contact area and prevents spillover to the other side. MICROGRAVURE™ can coat low viscosity solutions. Its lightweight cylinder results in faster and easier changeover and reverse coating creates shearing, resulting in a smoother surface.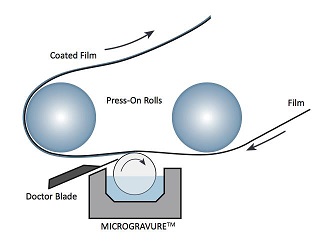 Figure 1: MICROGRAVURE™ technique.
The MICROGRAVURE™ coating technique is widely used in the manufacturing of low coating weights on light gage films. The method can achieve a coating weight uniformity of +/-2 percent at the low coating weights and the high precision demanded by most applications.
MICROGRAVURE™ provides:
Exceptional uniformity: ±2 percent tolerance
Coats 0.5 to 80 microns wet, as thin as 5 nanometers dry
Coats low viscosity solutions (0-1000 cP), both aqueous and solvent based
Coats on thin substrates such as PET, PC, PP, aluminum, copper, stainless steel, paper and fabric
MICROGRAVURE™ is ideal in meeting stringent uniformity and quality requirements for very uniform low coat weight products. It is used extensively in such electronics applications as smartphones, tablets, computer monitors and other LCD displays, Li-ion batteries, solar cells and window films.
In comparison, slot die is now one of the most widely used coating methods globally. While the majority of slot dies on the market depend on time-consuming bolt adjustments to attempt to deliver uniformity, Yasui Seiki slot die technology precision is based on meticulous in-house machining, to guarantee coating accuracy.
Slot Die Features include:
No profile adjustment bolts
Machined to 1/1,000th of a millimeter
Patented manifold and lip configuration for extremely uniform coating
Coating tolerance is +/- 2 percent
The system may be used in "On Roll" or "Off Roll" mode to ensure a wide range of coating thicknesses.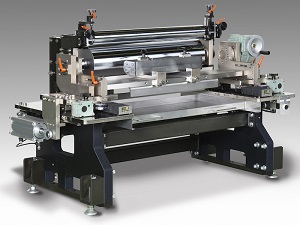 Figure 2: Slot die coating machine.
Slot die coating is used in a variety of applications, including:
Multilayer Ceramic Capacitors (MLCC)
Li-ion battery electrodes
Polyimide coating for flexible printed circuit (FPC)
Flexible solar panels
Inkjet printer photoresist coating
Film casting (polyimide, urethane, epoxy, etc.)
Nanomedicine
Patented MICROGRAVURE™ and slot die technology are both critical to a variety of applications and continue to evolve. MIRWEC coating technology services are a direct result of the knowledge obtained in building machinery to address coating needs across the globe.
MIRWEC addresses the complete coating process, start to finish, from the harmony of the entire coating machine, to making machine parts able to work in concert to achieve the highest precision coating possible, to the delivering of coating services.
Tying It All Together
MIRWEC's contract coating services enable its customers to experience Yasui Seiki's state-of-the-art, precision thin film coating machines and unique technology. MIRWEC brings its vast experience on both sides—coatings and machines—to all of its customers.
Now, the company's top coating engineer has recently moved to the United States. Bringing his 20 years of experience, he is an expert in the composition of the chemistry and all details necessary for successful coating. In addition to regular coating services, consultation is also available.
Coating success is in the chemistry, in the coating head, in the coating machine itself, even down to how the coatings are dried. It's all of these things. As tolerances get ever stricter and coating even thinner, MIRWEC delivers when no one else can.