Mississippi Gov. Phil Bryant ordered the state's Department of Transportation to immediately close 83 bridges that have been judged deficient by the federal National Bridge Inspection Standards and the Mississippi Office of State Aid Road Construction.​
​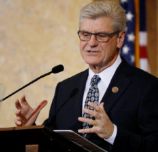 Gov. Phil BryantThe bridges slated for immediate closure are in Amite, Carroll, Clarke, Greene, Hinds, Humphreys, Itawamba, Jasper, Jones, Lauderdale, Leake, Lincoln, Newton, Pike, Smith and Wayne counties. The proclamation also applies to bridges that are found to be deficient in the future.
The bridges will remain closed until they are in compliance with federal and state laws, regulations and standards.
In November 2016, the Federal Highway Administration Mississippi Division Office began working with MDOT to review and evaluate the bridges that were identified in the National Bridge Inventory as being in the worst condition, to ensure they were safe to remain open to traffic.
In March 2017, FHWA worked with MDOT and the Office of State Aid Road Construction to develop and implement an action plan to address NBIS compliance issues concerning the proper inspection and closure of unsafe bridges. The primary action item in the plan required the state to hire independent consultants to perform the NBIS inspections of all local bridges with timber substructure.
During the week of March 19, 2018, the FHWA Mississippi Division determined many of the bridges deemed deficient remained open to the public.
The U.S. Department of Transportation notified the state in April that FHWA is concerned that the bridges remaining open constitute an unacceptable safety risk to the traveling public.