(Editor's note: Investment in critical infrastructure is gaining increased attention at the federal, state, and local levels around the U.S. Engineering360 presents an ongoing series of articles that look at projects, approaches, technologies, and engineering challenges that lie at the heart of this push to modernize existing infrastructure and build for future needs.)
Across the United States, structurally deficient bridges pose a challenge to economic growth and public safety.
Pennsylvania's bridges are particularly troubled. The state's Transportation Department says that around 4,200 bridges across the Commonwealth are structurally deficient and need to be replaced. That's roughly 18% of all bridges in the state, well above the national average of 7.3%.
Roads do not fare much better; 57% of Pennsylvania's roads are in poor or mediocre condition, according to the department. (Read "Built in the U.S.A.: Replacing 559 Bridges in 3 Years.")
But in Pennsylvania as elsewhere, infrastructure investments are gaining attention.
Call for Infrastructure Spending
On February 28, President Donald Trump said that he would ask Congress to approve a $1 trillion infrastructure bill. He outlined a plan to finance the projected spend through both public and private capital. And he invoked Dwight D. Eisenhower in his call for infrastructure spending.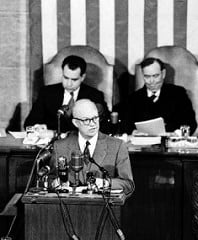 On Feb. 22, 1955, President Dwight Eisenhower appears before Congress to present his idea for a national highway system."Another Republican President, Dwight D. Eisenhower, initiated the last truly great national infrastructure program -- the building of the interstate highway system. The time has come for a new program of national rebuilding," he said.
Many models exist for the kind of effort that will be required to achieve the goal Trump outlined. One that deserves a closer look is already well under way in Pennsylvania. There, the state approved in 2012 a program to rebuild no fewer than 559 bridges statewide within a three-year time frame. Eight to 12 years might be a more reasonable time frame for such an ambitious undertaking, says Rick Kirkpatrick, spokesman for PennDOT.
Missouri Model
The Pennsylvania program is modeled on Missouri's Safe & Sound project. Starting in 2008, some 800 bridges all across the Show-Me state either were repaired or replaced. More than 550 bridges were replaced under a single design-build contract.
Pennsylvania's bridge replacement work began during the summer of 2015. By the end of 2016 crews had finished 173 bridges. Construction crews are gearing up for a busy 2017 as nearly 200 bridges are slated for replacement. The project is slated to complete in 2018. (See a map of where the bridges are located.)
Most of the bridges are on smaller state highways and in rural areas. Standard designs and prefabricated components are expected to cut replacement and long-term maintenance costs by 20%. And a handful of bridges will be designed to reflect the historic nature of nearby landmarks.
Pennsylvania Act 88
The bridge replacement program is part of Act 88, also known as the Pennsylvania Public Private Transportation Partnerships (P3) bill, which was signed into law in July 2012 by Gov. Tom Corbett (R). The Act authorizes public private transportation projects in the Commonwealth. This tool was intended to allow PennDOT to enter into agreements with the private sector to participate in "delivery, maintenance and financing of transportation related projects."
One initiative targets 559 of the roughly 4,200 structurally deficient bridges in need of replacement or repair. As in Missouri project, Pennsylvania transportation officials bundled all of the projects into a single contract. At the same time, they allocated risks between PennDOT and the joint venture the nearly $900 million contract.
For example, Tom Macioce, PennDOT chief bridge engineer, says that responsibility for right-of-way acquisition remains with the state. But bridge foundation risks were transferred to the contractor.
Standardization
One factor that helps efforts to streamline design and and allow for the extensive use of prefabricated components (such as beams) is that the bridges are relatively small and can be designed and constructed to standard sizes.
The bridges average 60 feet in length and are made of prestressed concrete, says Macioce. As a result, design plans for around 87 bridges were taken to around 30% completion so that work could begin, he says. For the remaining 470 or so bridges, the design teams were given the bridge width, traffic restrictions, and core boring samples then told to "design," Macioce says.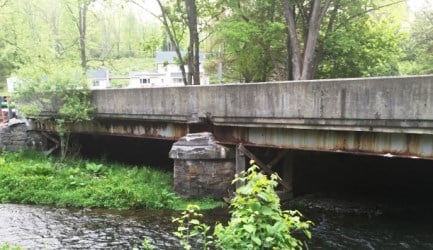 Roughly 18% of Pennsylvania's bridges are structurally deficient, while the national average is 7.3%. Bridge 184 before replacement. With these another other efficiencies, the average cost to design, build, and maintain each bridge is expected to be around $1.6 million. That's roughly 20% less than the $2 million expected lifetime cost for a comparable project.
P3 Team
A public-private partnership (P3) Rapid Bridge Replacement Project was awarded by PennDOT to a consortium known as Plenary Walsh Keystone Partners (PWKP). The partners will finance, design, construct, and maintain the bridges for a 28-year term.
The consortium includes Plenary Group USA Ltd. and Walsh Investors, LLC (which provide financing and long-term management), HDR Inc. (the lead design firm), Walsh/Granite JV (a joint-venture team leading construction), and Walsh Infrastructure Management (which will provide maintenance for 25 years once the bridges are completed).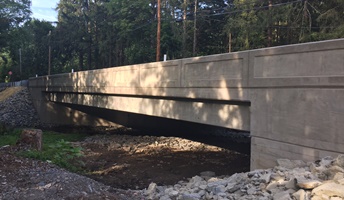 Bridge 184 after replacement. Credit both images: Plenary Walsh Keystone PartnersPennDOT retains ownership of all bridges.
Engineering Design
Project design started in January 2015 and HDR began to draw on resources at 30 of its 225 locations. As of November 2016, more than 500 HDR employees had worked on the project, along with some 300 sub-consultant staff.
HDR says the project team accelerated design work by delivering streamlined bridge plans that conveyed to the contractor only the information they needed to build the bridges. This approach initially challenged project designers and PennDOT staff, HDR says, but it proved successful. HDR coordinated bridge plans and planned in advance with the construction JV to make this efficiency possible.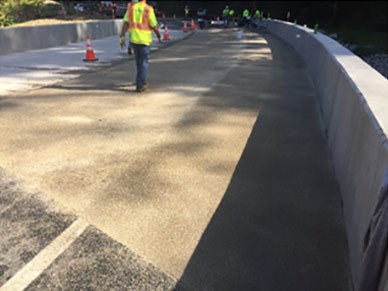 A polyester polymer concrete is intended to protect bridge decks from deicing salts and reduce maintenance costs. Here, the surface is ready for treatment.Additional delivery innovations include use of standard, precast elements and structures. Project managers also reduced material cost through large-scale procurement. Specifying uniform elements also reduced construction and operational costs.
Design innovations included adjusting integral abutment standards to increase the number of places they could be used. For example, HDR we changed approach slab criteria based on standards used in other states, and developed standard slope protection details for small fills.
In addition, new materials were introduced. For example, HDR recommended widespread use of polyester polymer concrete (PC) overlay for bridge decks, not a common practice in Pennsylvania, which protects the deck and extends its life.
Not all has been smooth sailing, however. Macioce says that project scheduling at first did not factor in the possibility of a second review of design plans. That was "a little naive," he says, since permitting authorities do not always approve plans on the first review. "We are learning as we get deeper into the contract," he says.
Nod to History
While the bridges' functional designs vary based on geography and other variables, a uniform look has so far been used for the rapid bridge program.
That will change in 2017 as seven "enhanced" bridges come on line. HDR says that these offer unique visual qualities that reflect the communities surrounding them. These bridges were singled out because of their locations amid historic areas or their proximity to landmarks.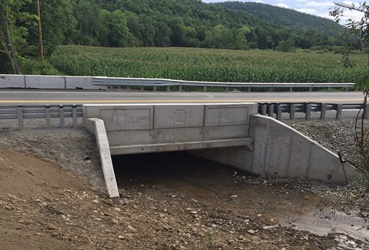 Bridge JV 146 after replacement. Credit: Plenary Walsh Keystone Partners
PennDOT has secured the authority to issue up to $1.2 billion in Private Activity Bonds (PABs) from the U.S. Department of Transportation. These tax-exempt bonds, which are less expensive than traditional financing options available to private firms, will account for the majority of the total capital costs at a low borrowing cost.
PennDOT will make periodic, performance-based payments in return for the development and ongoing maintenance of the bridges included in the project. The performance-based payments would start after substantial completion of the bridges, to provide an incentive for early completion.
Pennsylvania's bridge replacement program is "very replicable," says Michael Bonini, director of the PennDOT P3 program. Other states already have expressed an interest in the program. And one county in northeastern Pennsylvania is using a similar P3 approach to repair and replace bridges under its jurisdiction.