Making Concrete Stronger with Wood Waste
S. Himmelstein | April 16, 2018
Recognizing that furniture factories in Singapore can generate over half a million tons of wood waste annually, National University of Singapore (NUS) researchers devised a way to sustainably exploit this material. A significant portion of this waste takes the form of sawdust, which can be converted into biochar with good water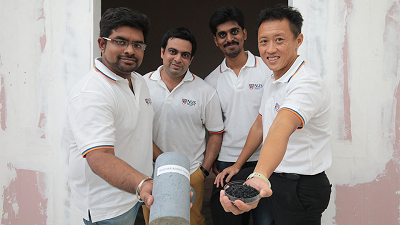 The researchers display enhanced concrete (left) and a sample of biochar generated from wood waste (right). Source: NUS absorption and retention properties.
The recovered biochar can be incorporated into cement to improve the strength and water tightness, and enhance the curing and hardening of mortar and concrete. The researchers observed that increases in early strength and impermeability of concrete and mortar mixtures can reach up to 20 and 50 percent respectively, resulting in reduced construction time and cost by permitting early removal of formwork.
The biochar also captures carbon that would otherwise be released into the atmosphere by decay or by incineration of biomass. The recycling of wood waste as biochar in concrete construction is viewed as a novel way to store carbon in buildings while promoting waste recovery and reuse and strengthening building structures.
About 50 kilograms of wood waste can be utilized for every ton of concrete fabricated. Construction in Singapore typically requires 0.5 cubic meters of concrete for every square meter of floor area built, which translates into around six tons of wood waste recycled to build a typical four-room apartment unit with a floor area of 100 square meters.