Injectable Bandage Stops Bleeding and Speeds Healing
S. Himmelstein | April 03, 2018
An injectable bandage that combines a common food thickening agent and nanoparticles can rapidly stop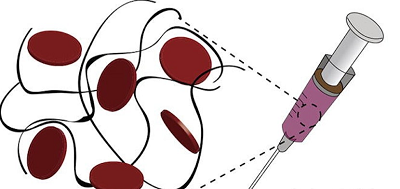 An injectable hydrogel containing nanoparticles promises to rapidly stop bleeding and enhance wound healing. Source: Texas A&M Universitybleeding and potentially promote wound healing. Kappa-carrageenan, derived from seaweed, was mixed with clay-based nanoparticles by Texas A&M University researchers to develop the injectable hydrogel.
The charged characteristics of clay-based nanoparticles provide hemostatic ability to the hydrogels, speeding the clotting process as plasma protein and platelet binding on the hydrogel increases. The nanoparticles can also be modified to carry therapeutic biomacromolecules that result in enhanced tissue regeneration and wound healing. This secondary benefit follows on from the injectable bandage simply stopping bleeding and provides a way to direct slow-release therapeutic molecules directly into a wound.
According to the researchers, the multifunctional nanocomposite hydrogels could be used as an injectable hemostat for penetrating injury on the battlefield and percutaneous intervention during surgery.