New Laser Method Can Detect Metabolic Changes in Cells
Siobhan Treacy | March 08, 2018
Metabolic changes are some of the first steps in the early stages of a disease. Usually, doctors are unable to detect these small changes and general knowledge about these signals is limited. Typically, doctors detect disease after significant damage has occurred. A team of engineers from Tufts University School of Engineering is changing that. The team has developed an optical tool that has the ability to read metabolism at subcellular resolution without having to disturb the cells. This method has successfully been used to identify metabolic signatures that show up in diseases like diabetes, cancer, cardiovascular and neurodegenerative diseases.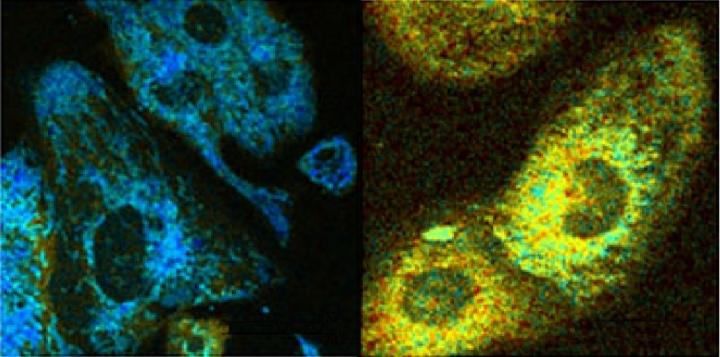 Optical readouts of HL-1 cardiomyocytes in response to chemical uncoupling by CCCP. Redox ratio map for control (left), and CCCP exposed cardiomyocytes (right). (Source: Irene Georgakoudi/Tufts University)
This new method is developed from how two coenzymes—nicotinamide adenine dinucleotide (NADH) and Flavin adenine dinucleotide (FAD) – act when they are hit by a laser. These coenzymes are a major part of a lot of metabolic pathways in every cell. The researchers aimed to find the specific metabolic pathways affected by disease or stress. To do this, they looked at three major parameters: the ratio of FAD to NADH, the fluorescence "fade" of NADH, and the organization of the mitochondria as revealed by the distribution of NADH in the cell.
The first parameter is what revealed if the cell is consuming oxygen proficiently, metabolizing sugars and producing/breaking down fat. The second parameter gives details about the environment of the NADH. The third, and final, parameter shows just how the mitochondria split and fuse in response to the cell growth and stress.
"Taken together, these three parameters begin to provide more specific, and unique metabolic signatures of cellular health or dysfunction," said Irene Georgakoudi, Ph.D., corresponding author of the study and a professor of biomedical engineering in the School of Engineering at Tufts. "The power of this method is the ability to get the information on live cells, without the use of contrast agents or attached labels that could interfere with results."
Methods for non-invasive tracking the metabolic signatures for disease already exist, like PET scans. While PET scans can provide low-resolution information with depth penetration into living tissues, the Tufts method can detect metabolic activity at the resolution of single cells near the surface. Many diseases can be detected on the surface of tissues, like cancer. Pre-clinical studies on animals and engineered 3D tissues show that there is a benefit from being monitored without being destroyed.
The paper on this research was published in Science Advances.