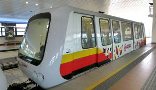 Driverless rail car for Singapore's transit system. Source: Bombardier
Bombardier Transportation signed a $262 million asset replacement contract with Singapore's Land Transport Authority (LTA).
The contract covers the supply of 19 automated people mover cars, the retrofit of 13 existing cars and the delivery of a signaling system upgrade for 14 stops on the Bukit Panjang Light Rail Transit Line.
Since 2012, Bombardier has delivered 276 driverless metro cars for Singapore's downtown line in addition to 13 driverless cars for the Bukit Panjang LRT. Singapore's Mass Rapid Transit and LRT networks have a combined ridership of over three million passengers a day. LTA is seeking to expand the rail network to 360 km by 2030.